Local businesses: Creativity, solidarity, and innovation
During this time of crisis and economic uncertainty, many Québec companies are relying on creativity and innovation to try to bounce back.
| | |
| --- | --- |
| | By Fonds de solidarité FTQ |
In 2020, many SMEs were unfortunately forced to suspend operations or lay off some of their staff. Some have managed to survive by, for instance, diversifying their production or coming up with initiatives to support smaller companies. It may not always be possible to do the same, but perhaps, like us, you'll be inspired by their stories!
Québec is famous for its creativity and innovation. According to Investissement Québec International, more than a quarter of Canadian research and development (R&D) expenditures are made in Québec, which is also reflected in the employment numbers.
In these challenging times, Québec is once again demonstrating that it has the resources to adapt and excel in an innovative and inspiring way, thanks in particular to businesses in various industries.
Review your product or service offering
As an entrepreneur, you may be looking for ways to keep operating while using your expertise, raw materials, teams, and facilities to help the community. Several Québec companies have seized the opportunity to review their business model by making products that are now in high demand.
Take Les Brasseurs du Nord – Bière Boréale, which decided to send the beer it would normally sell in bars and restaurants to two distilleries in its region to turn the alcohol into hand sanitizer.
Dauphinais, which manufactures refrigerated display cases, converted its production to supply protective plexiglass panels (in French) to grocery stores and food shops, helping cashiers in Québec stay safe. The Sherbrooke-based company also created a protective film for payment terminals to make card payments safer during the pandemic.
When it comes to dealing with market challenges and staying in business, even in times of crisis, Québec companies have had no shortage of ideas. Many clothing and textile companies, thanks to their equipment, materials, and personnel, are now making masks in a variety of fabrics.
While many companies have managed to shift gears to adapt to the new normal, others are trying to seize new opportunities, such as going digital. Many retail companies that weren't yet selling their products online have suddenly made the leap.
This is the case with Miralis, a kitchen and bathroom cabinet manufacturer. Prior to the pandemic, the Bas-Saint-Laurent company launched FAC Miralis, a training school for kitchen designers in Rimouski and Brossard. It has since decided to offer this fully online training to its partner clients. The initiative aims to provide a valuable resource to Miralis's entire client network, including kitchen designers, technicians, and vendors.
An outpouring of solidarity from businesses
This unprecedented crisis is a time to help one another. If your business or a similar business is struggling, why not partner up to weather the storm? Sharing workforces and teams could certainly help, qualifications and tasks permitting.
New Look Eyewear, for example, responded to the Québec government's call by using its Saint-Laurent factory in Montréal, normally specialized in producing ophthalmic glasses, to manufacture protective eyewear for medical personnel, which was sent to the Ministry of Health and Social Services.
Prior to the gradual reopening of New Look stores by appointment only, the company's experts remained available to hospital staff in Québec and Canada who wanted to adapt protective eyeglasses to their prescriptions.
As for RICARDO Media, it produced a series of short cooking videos for people stuck at home. The Ricardo en confinement series (in French) is available for free online and aims to encourage Québecers to cook with local products. It's a wonderful display of solidarity toward both citizens and local producers.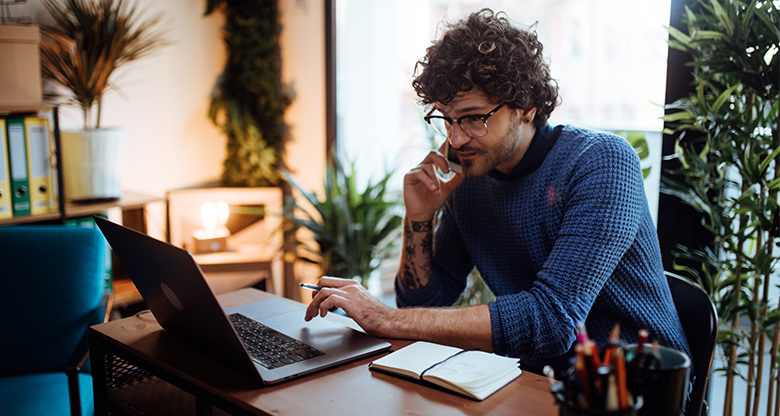 Share your expertise
While many companies have found ways to keep their doors open, others have chosen to volunteer their expertise to keep their staff busy and help other companies get through the crisis. This might be a good way for you to stay active, without receiving remuneration. After all, solidarity is its own reward.
For example, L'ASSOCIÉ, which specializes in administrative and event management, is offering its services free of charge to associations, while members of the Alliance des cabinets de relations publiques du Québec (ACRPQ) is offering 30-minute pro bono phone consultations to NPOs and SMEs in need of communications advice.
Despite the challenges faced by many companies, morale remains high. According to the Startup Barometer, which has been taking the pulse of Québec's high–growth potential organizations during the pandemic, 12.4 percent of the young businesses surveyed in early May thought their situation had improved compared to the previous week.
One thing is certain: the ongoing crisis has rekindled the spirit of helping one another. In addition to countless donations, many initiatives have been launched to encourage giving back, like the buy-local platform Le Panier Bleu and the #OnSeSerreLesCoudes initiative (links in French). Collaboration and solidarity are without a doubt part of Québecers' DNA!
Imagine if all Québec businesses stopped to ask themselves: What can we do as a company, with what we have, to make a positive impact?
The Fonds: Helping the economy recover
In these uncertain times, it's essential to stand together with Québec workers. That's why the Fonds seeks to contribute to our collective well-being by actively participating in the local economy and the financial health of our businesses.
In this regard, we are offering all the companies in our portfolio, which includes the Fonds régionaux (regional funds) and Fonds locaux (local funds), a six‑month deferral of payments related to loans, including principal and interest. This measure is intended to relieve the financial pressures on businesses in the short term to enable them to continue their activities and preserve jobs.
The Fonds has also taken other measures to support Québecers:
More than $300,000 has been donated to various organizations: Cuisines Solidaires (an initiative of La Tablée des chefs), SOS violence conjugale, Tel-jeunes Foundation, United Way, the Red Cross, and Les Petits Frères.
The funds initially earmarked for two scholarships and student activities during the spring 2020 session at the Université du Québec à Trois-Rivières (UQTR), totalling $10,000, have been redirected to an emergency fund for students experiencing financial issues.
An investment of $7.5 million was made with IMV to support the development of targeted immunotherapies and a potential vaccine against COVID-19.
An investment of $75 million was announced to fund projects of the life-sciences sector in Québec, over the next five years.
These articles may be of interest to you
Talk to one of our agents
You can reach us at 1-888-385-3723, Monday to Friday, between 8:30 a.m. and 4:30 p.m.
Send us a message
You have a question about your file or the Fonds de solidarité FTQ? Write to us, we will be happy to answer you.
Log in to the Espace employeur
You can manage all aspects of your company's payroll deduction plan online. A wide range of documents for you and your employees is also available on the Espace employeur.