Becoming a partner of the Fonds means benefiting from the strength of our network. Our team is specialized in more than 25 different industries and understands your socio-economic context and the key players in your region.
The Fonds locaux de solidarité allows us to support the local economy by boosting the growth of SMEs, as well as creating and maintaining high-quality sustainable jobs. Businesses can access financial assistance through the FLS via a group of passionate, well-rounded specialists who are committed to local economic development within their regional county municipality (RCM)—or equivalent—or any organization designated by their RCM.

Custom financing for SMEs

Each RCM identifies the industries and projects it would like to promote in its region and submits them to a local investment committee that will select the projects to be financed by the FLS. This financing takes the form of an equity loan or conventional mortgage loan at terms that take the company's needs and realities into account.

Location: 17 offices in Québec

Financing: $100,000 to $5M[4]

We help create, maintain, and safeguard jobs and stimulate the regional economy through strategic development investments. The Fonds régionaux de solidarité offer personalized business solutions in accordance with the regional economic reality and characteristics of each SME.

Financing that meets your needs

Loan or share capital of up to $5 million
No corporate or personal guarantees
No legal or management fees
Short wait time, efficient processing
Preliminary positioning in under 15 days
Personalized, professional approach
Flexible financial products
Local service

We also participate in the economic education of our partner companies to empower workers to better understand the environment in which they are being given a chance to evolve.

The Fonds de solidarité FTQ is the ideal partner for projects over $5 million—for instance, financing a merger, acquisition, or expansion; developing new markets; or financing a buyout. Regardless of a company's line of business, the Fonds provides access to capital, expertise, and a vast network of partners.

Along with our development partners, our professionals use their expertise in finance, construction, law, asset management, property management, and marketing to maximize the success of the projects we invest in.

Learn more about real estate projects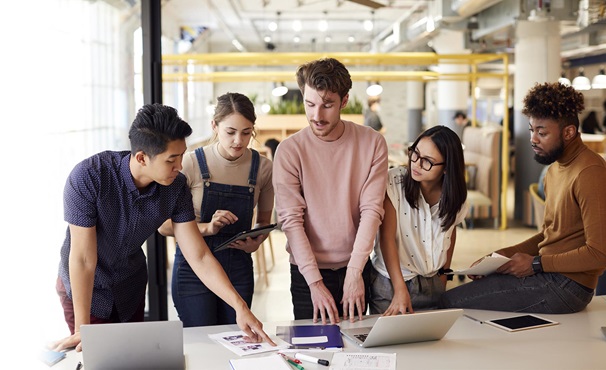 Do you have a project you'd like to finance?¹
Fill out our contact form to find out more about our financing solutions.
FILL OUT THE CONTACT FORM
The financing granted is subject to compliance with applicable eligibility conditions.

3

Venture capital is not subject to these scales.

4

As at December 31, 2021.

5

As at November 30, 2021.