Travel, tourism, and the environment: stories and stakes
Travellers are getting involved to preserve the environment and the beauty of landscapes the world over.
Travel has never been so easy, due, in part, to affordable flights. But did you know that tourism is a significant source of pollution? According to a study in the journal Nature Climate Change, tourism accounts for 8% of global greenhouse gas emissions. The emissions caused by international aviation in particular increased by 70% between 1990 and 2010. And, if they continue to increase at the same rate, air travel could be responsible for 22% of global emissions by 2050, compared to only 2% in 2017, according to a report by the Oeko-Institut.
Faced with this reality, and aware that their activities have environmental consequences, more and more travellers are trying to do their part. This is the case with Philippe, a PhD candidate in biology at Simon Fraser University who founded a non-profit organization that is working to conserve biodiversity, and with Vincent, a world traveller who is now doing his best to minimize his environmental impact.
The environmental impacts of human activity
Philippe has travelled a lot, especially as part of his biology studies. On a trip to Indonesia while working for a biodiversity census organization, he realized that it was hard to find any completely wild areas. He recalls having to travel great distances, involving complicated logistics, to find places untouched by human activity. In the end, he realized that we have left our mark pretty well everywhere.
In a number of communities, including in the Philippines, he could see that mangroves are disappearing and that this is impacting the local fishing communities. In Indonesia, he went on outings with local fishermen and recorded their accounts. He learned that the fish are increasingly scarce and that the fishermen have to travel ever greater distances to find them. Dependent on fishing, residents are finding it difficult to survive due to overfishing and climate change.
Vincent also saw the impact of climate change and human activity as he toured the world. He recalls that, in South Africa, he and his spouse had to limit their water consumption to 50 litres per day due to the water shortage. By comparison, in Canada we consume an average of 251 litres of water per dayAttention, this link will open a new tab.. Croatia has had to deal with forest fires caused by extreme drought. In Asia, especially, the air quality has been so bad that in many areas the sky has darkened. Smog is everywhere, from major cities to rural regions.
In response to what he witnessed and experienced, Philippe founded Wide Open ProjectsAttention, this link will open a new tab. with his friends William and Omar. "Wide Open Projects aims to support local conservation, community development, and education efforts in a remote region of West Papua called Raja Ampat." The region has reached a critical stage in its development, as it harbours the most biodiverse marine ecosystem in the world, while tourism there has started to increase exponentially. Most of the inhabitants are indigenous, kind-hearted people. "With Wide Open Projects, we plan to provide local organizations with the resources they need to meet their objectives," he explained, before quickly adding: "This project is near and dear to my heart. For a long time now, we've been working to set up something that would help the people and the environment, and this fledgling enterprise is now taking flight. We hope to make an impact in a part of the world that is facing environmental challenges."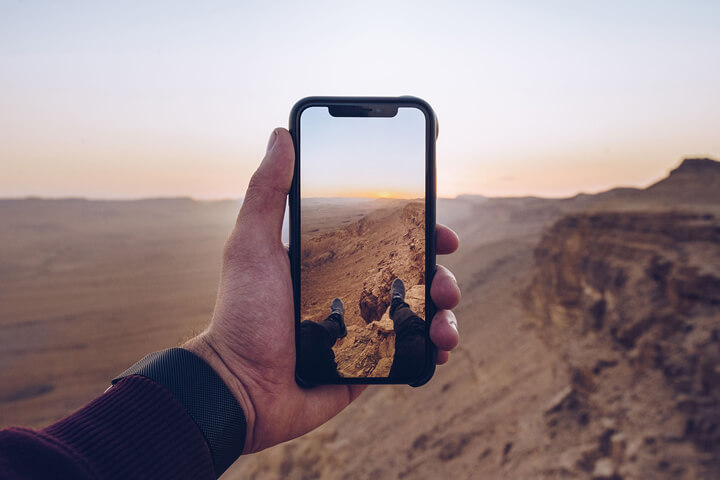 Social media's impact on popular tourist destinations
Following in the footsteps of influencers and celebrities, tourists have taken to geotagging the places they visit. The practice is, however, by no means harmless. For example, in July 2018, just eight days after starting its season, the Ontario sunflower grower Bogle Seeds Farm had to close its doors for the rest of the year. In a single day, the owners were overrun by 7,000 tourists who had heard about the place on social media and wanted to take photos of the magnificent yellow flowers too. In addition to damaging the fragile sunflowers, they left a large amount of garbage in their wake. There are now numerous tourist destinations worldwide that are suffering from this kind of social media popularity.
Some, aware of geotagging's impact on nature, now use the hashtag #nogeotag. This is a new trend where tourists are asked not to geotag their social media photo posts in order to preserve each location's beauty, wild animals, and vulnerable ecosystems.
Philippe is aware of the phenomenon, but he remains optimistic and believes that beautiful landscapes can be conserved in spite of tourist appeal. In his view, this can be achieved by developing a sustainable tourism industry in partnership with local communities. He proposes that we move away from the Thai model, where tourists have been welcomed en masse, enriching a privileged minority, and recommends sustainable development that promotes the area's health and beauty. He believes that this kind of approach can preserve Raja Ampat's beauty.
Limiting our environmental footprint, each in our own way
After their travels, Vincent and his spouse decided to take concrete steps to limit their environmental footprint by offsetting the carbon emissions from their air travel. When travelling, they opt for public and active transportation and avoid renting vehicles whenever possible. "We try to stay in environmentally responsible hotels," they say, noting that they have seen more and more hotels offering shampoo in dispensers rather than in the traditional small bottles.
At the same time, they are keen on taking real action. "We often pick up garbage left on the beaches we visit." When it comes to eating out, they prefer to support small local businesses and avoid major chains. They've also gotten into the habit of taking leftovers to go to avoid waste.
With Open Wide Projects, Philippe is working in particular to transplant coral, raise awareness among the youth of Raja Ampat, and educate the population on marine conservation and local job creation.
In addition to his commitment to Wide Open Projects, he is involved in youth awareness initiatives, such as those in Canadian educational institutions. This is a way for him to share his passion and teach young people about worldwide environmental trends as well as the importance of conserving biodiversity and endangered species.
In his view, change and environmental conservation efforts must come from both international agencies like the World Wildlife Fund and local communities, even if they don't always see the actual results of their work.
"The efforts must therefore be combined in order to make a real impact. If everyone does their part, together we can limit the impact of human activity on the environment."
Looking for adventure and a chance to discover the world, learn more about our partnership with Hooké!
(Video in French only.)
These articles may be of interest to you