Turn a passion into a part-time business
The story of two young people who are combining jobs with entrepreneurship.
Millennials, who have joined the job market in droves, have brought a lot of changes with them. By being able to switch jobs easily, we've figured out that we can rise up the career ladder more quickly while earning more money. We start off by looking for a work environment that suits us and our values. With more choices than we know what to do with, it's no surprise to see millennials change employers 3 times in 5 years right after getting out of school! But for many, the best way to find a job that reflects who you are is to create one yourself.
That's what happened with Mariève and David. Each of them launched a business by following their passions for the environment and the sustainable development of society.
When a company is founded on its values
That's exactly what Mariève did, who launched her blog Histoires de s'inspirerAttention, this link will open a new tab. (in French) to talk about the environment and the desire to live in greater harmony with the planet, subjects she loves deeply, and make a difference with her message.
After studying literary composition and teaching environmental studies, writing inspiring stories that promote environmental consciousness came to her naturally and led her to open her own company catering to firms who want to better communicate their environmental missions. "Little by little, people asked me to write for them, and help them with this or that, so I decided to also become a consultant, mostly for local ecologically responsible companies. It's a fascinating, motivating and very inspiring milieu," said the PhD candidate in literature and the environment at McGill.
Working in complementary fields can help a person grow on both the personal and professional level. In fact, by choosing jobs that she believed in, Mariève is clearly at a point of convergence in her values. "I'm a university lecturer, which lets me help environmental studies students become better communicators; I help students lean to write better; I have a blog to inspire people (and myself)… I'm starting to do consulting work and I have writing work in the sectors I like and that interest me deeply. I have a sense of fulfillment and that my time is being well spent using my talents to help society!" she said.
She is far from the only one juggling multiple professional and business pursuits as close to 80% of new entrepreneurs in Quebec also have a second job. This hybrid approach to entrepreneurship does tend to split one's career path, but it also lets a person explore all their passions on a daily basis.
That's how it is for David who is a social worker, but has also been a craft brewer for more than 10 years. After brewing his own beer at home, he met a professional brewer at a festival and had a revelation: "He told me his brewery would be ready for me to brew my beer in 6 months. I worked on my business plan and perfected my recipe during that time, and since then, I've gone back to brew beer there every 2 months." Because he loved reaching out to people as a street social worker in Haute-Gaspésie, he feels that he can more easily establish a rapport with business people and have an impact in his milieu. Today, he founded Barbe rouge brasseur itinérantAttention, this link will open a new tab. (in French) and his company lets him develop his recipes at home and then brew them as a guest brewer in a number of microbreweries in Eastern Quebec, where he meets people from all over and can take part in the social development of his area.
Environmental passion as business driver
Whether you commit full- or part-time to your business, what matters most to making it a success above all else is to be driven by your passion every waking moment. By establishing a company vision that's faithful to your values, it becomes a lot easier to find the energy and motivation from day to day.
For David, setting down roots in his area and living in harmony with the defining feature of the place, the Saint Lawrence River, is vital. "I've moved practically all my life, but when there's water, specifically that river, it becomes a constant that I depend on to feel at home," he said. The river also flows through his passion, as 90% of beer is water. He's always inspired by how the people he creates ties with make the river an ally in their business creativity. "The brewers obtain the water composition, they decode it, and their knowledge brings out certain characteristics in my recipes." This helps him build trust with his brewing partners which serves him well as they open their doors to David so he can brew in their facilities. In addition to nature, David also wanted to make a difference among the people of his area, even if they don't necessarily share the same entrepreneurial drive. "It's a passion I have and I'm solidly rooted here in my milieu socially. I like to see the human side of a brewery," said David, who has also worked as a waiter and guide in craft breweries.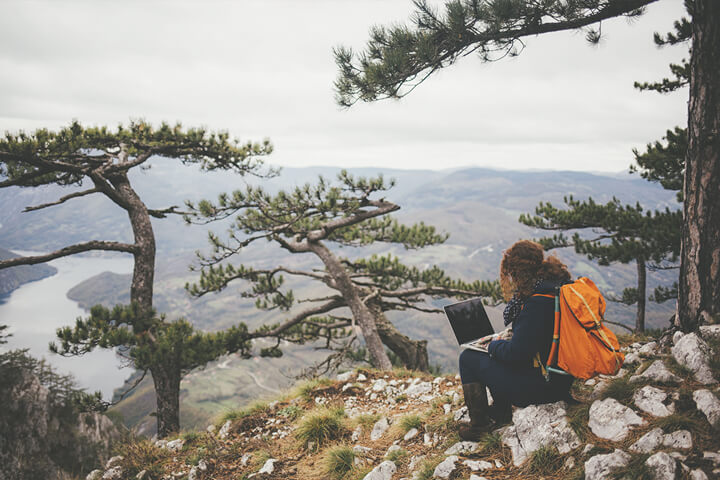 Passionate about the environment, Mariève obviously wanted to write about it, but she also wanted to bring people together around the table to talk and think about the subject. Doing her homework and getting to know the environmental community was important for her, because "my readers are more wary than ever and that's understandable, with all the contradictory information circulating on social media. But there are also differing opinions based on differing values, and sometimes you need to take the time to talk about them so people can better understand each other."
As a person already fully engaged in her daily life with a vegetarian diet and zero-waste lifestyle, by drawing on her passion she wanted to share inspiring stories about eco responsibility with as many people as possible, because for her the environmental challenge was critical.
"The exploitation of natural resources is inevitable and extremely complex, but at the same time we see cities and towns, even countries, who have amazing outcomes, even phenomenal outcomes. In part that's what has inspired my blog."
Young people are bringing change with them to the workplace because they view it differently from previous generations. With all the possibilities available to them, choosing a workplace that fits with their values is not only an option, but a goal. Entrepreneurship becomes the preferred path for them because they can use their passions to drive their businesses and at the same time work on the things that concern them, like the environment or contributing to the vitality of areas outside the big cities.
Does green entrepreneurship interest you? Learn more about our partnership with Hooké!
(Video in French only.)
These articles may be of interest to you