When's the best time to retire?
Retirement requires some preparation. Before embarking on this exciting adventure, it's important to determine what moment would be ideal to begin this important step in life.
So you've started thinking about retirement and you're asking yourself if there is a single best time to take the plunge? Actually… there is! And your choice can even simplify your future financial decisions and help prepare you for the big transition. And if you do not make the choice yourself, take comfort in the fact that freedom and lots of spare time never hurt anybody!
What's the best time of the year to retire?
Without any doubt, the best seasons to retire are spring and summer. When you think about it, all your life when the sunny weather arrived and the buds broke out meant soon it would be vacation time, fun time, time for special projects and for relaxing: the identical ingredients of a happy retirement, we should point out. With that special feeling in place, it'll be a lot easier to get used to your new life. The transition will be more natural as you won't have the impression you've stopped working, it'll be like your summer vacation just got extended!
This strategy will help you kick off your arrival in retirement with a soft landing rather falling over the edge of a cliff!
Each person has a perfect time
However, picking the best time to retire also means coordinating your choice with that of your partner. When you consider that 30% of divorces happen after age 50 and that over half a million people aged 50+ are divorced, best to get the odds in your favour for a successful retirement, for your life as a couple as well as for yourself.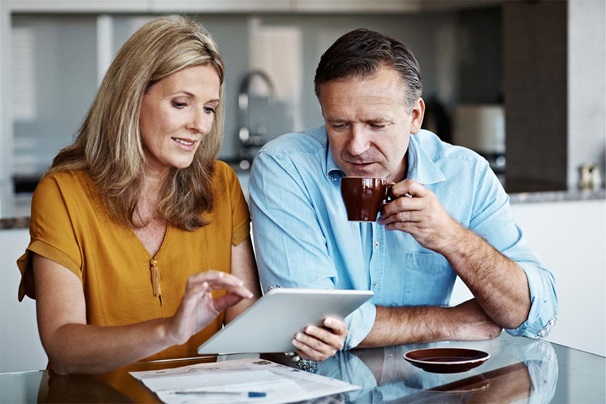 Taking your retirement at different times is the best thing you can do!
It's important for each partner to get used to your new reality, to find your rhythm and your direction.
Imagine you just spent 40 years with your own space, your own time and your own routines at work without your partner and, all of a sudden, you're together 100% of the time! Getting a handle on your new status as a retiree and finding your rhythm is already a huge undertaking for you; doing it at the same time as your partner can be destabilizing for both you and your relationship. What's more, if you're not sure you want to retire right away, even if you can, seeing your partner make the leap before you might just give you the itch to retire, too!
A gradual retirement for a smooth transition
Maybe you're hesitant to retire in one fell swoop? That's perfectly normal. A gradual retirement might be just the ticket for you, given that you have so many ways to do so.
Cutting down your work days a little at a time and making room for your retirement can help you get through the transition more smoothly.
Also, keeping in contact with your work will help you stay active as you get control over your retirement. It could be a great occasion to pass the torch as well as all your accumulated years of experience and knowledge to your future ex-colleagues who will be replacing you. With today's shortage of workers, lots of employers are even offering benefits to staff who choose to retire gradually. And who can say no to a getting a salary and a retirement income at the same time?
And if you can't choose the date you retire?
Despite all this, in over 35% of cases you don't get to choose when you retire, whether it's because your employer is going through tough times and needs to let some employees go, because you have someone in the family who's ill and needs your help, or because your own health is causing you to slow down. That could mean your retirement is not what you thought it would be. If you can't choose when to retire, you'll need to make sure you can retire and determine if you have the means to do so, as you may have some life changing decisions to make.
Choosing when to retire isn't as hard as you might think and you do have options. All you need to do is take the time to make the choices that are best for you so you can live the retirement life you want to live.
Be strategic! It is totally possible to stay active and get the most out of your new free time while you transfer your knowledge to the next generation of workers.
Retiring takes some thought, and you need to make sure you get the retirement you want, whether it's at a cottage on a lake, in the backyard gardening, building things with your grandkids or crossing the country in an RV!
These articles may be of interest to you