Make lunches for the week with $20
Discover recipes by YouTuber Rosalie Lessard.
Rosalie's grocery list:
Fresh basil
Shallots
Baby spinach
Cucumber
Tomatoes
Sundried tomatoes
Feta
Pita bread
Tramezzini bread
Your choice of pasta
Sliced ham
Canned tuna
Red kidney beans
Rosalie's recipes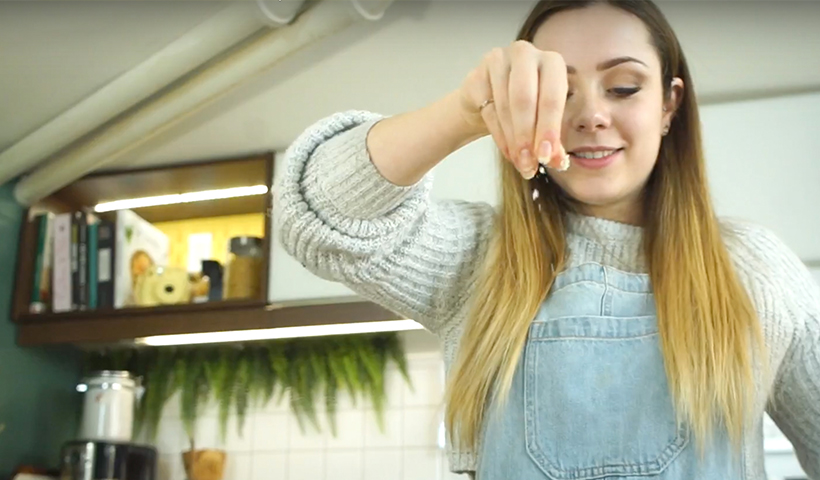 Monday: Pesto, feta, and sundried tomato pasta
Ingredients:
Fresh basil
Garlic
Olive oil
Lemon juice
Feta
Shallots
Maple syrup
Your choice of pasta
Sundried tomatoes
Directions:
Blend the fresh basil, garlic, olive oil, lemon juice, and feta in a food processor to obtain a creamy pesto. Add salt and pepper to taste.
Sauté the shallots in a skillet with olive oil, maple syrup, and a splash of water. Fry until the shallots are golden and caramelized.
Combine the pesto, shallots, and cooked pasta. Toss in a few sundried tomatoes and crumbled feta.
Tuesday: Pita bread pizza
Ingredients:
Pita bread
Olive oil
Garlic
Dried thyme
Tomatoes
Shallots
Baby spinach
Feta
Directions:
To make the pizza crust, baste the pita with olive oil. Top with minced garlic, dried thyme, chopped tomatoes, shallots, baby spinach, and feta. Add salt and pepper to taste.
Place your pizza on a baking sheet and broil in the oven on low heat until fully cooked.
Wednesday: Grilled ham sandwich
Ingredients:
Tramezzini bread
Meaux mustard, onion jam, and any other condiments of your choice
Sliced ham
Tomatoes
Feta
Dried oregano
Baby spinach
Directions:
Take two slices of bread. Spread Meaux mustard and onion jam on the bottom slice. Top with ham, tomatoes, spinach, and feta. Sprinkle with dried oregano, salt, and pepper.
Close the sandwich and baste the outside with olive oil.
Brown both sides in a skillet. Warm the sandwich in a 350 °F oven for four to five minutes. Enjoy!
Thursday: Tuna roll-ups
Ingredients:
Tramezzini bread
Canned tuna
Mayonnaise
Sriracha sauce
Dijon mustard
Cucumber
Baby spinach
Directions:
In a bowl, mix the tuna, mayonnaise, sriracha sauce, and Dijon mustard. Add salt and pepper to taste.
Peel the cucumber, then slice into sticks as long as the width of your bread.
Flatten the bread with a rolling pin to make it easier to roll. Top the bread with baby spinach, the cucumber sticks, and the tuna mixture.
Roll up, halve, and enjoy!
Friday: Bean salad with croutons
Ingredients:
Tramezzini bread
Olive oil
Red kidney bea ns
Tomatoes
Shallots
Cucumber
Feta
Dried ore gano
Dried thyme
Dried basil
Lemon juice
Directions:
To make the croutons, chop the bread into small cubes and place in a bowl. Add minced garlic, salt, pepper, and olive oil. Brown the croutons in a skillet and set aside.
For the vinaigrette, pour olive oil in a bowl. Add lemon juice and the dried oregano, thyme, and basil. Whisk the ingredients vigorously.
In another bowl, stir together the beans, tomatoes, shallots, cucumbers, and baby spinach. Mix in crumbled feta. Add salt and pepper to taste.
Toss the salad with your vinaigrette. Top with croutons.
The best part of this week-long experiment? Not only do you have five delicious recipes to try, you also have a great excuse to fill your Instagram with mouth-watering food pics.
Have fun cooking (and searching for the perfect hashtags)!
These articles may be of interest to you