Wedding budget: 9 tips to help you spend wisely and cut costs
It's no secret: weddings can get pricey. To help you stay within budget, we've listed the main expenses to consider before making the leap, plus a few tips on how to reduce costs.
Did your significant other pop the question? Before you start planning your dream wedding, it's important that you set a budget to make sure you don't get swept up in the excitement and spend more than you need. According to wedding planners Jessie Harvey and Lily Ostos, the co-founders and CEOs of Hôte Événements, the average Quebec couple spends between $20,000 and $25,000 on a 120-person wedding. What's more, in a 2015 survey of 2,000 brides conducted by Wedding Bells and Mariage Québec magazines, 75 percent of respondents agreed that they were likely to spend more than anticipated on their wedding. If you're planning on tying the knot, you're probably wondering what costs to expect and how to divide your budget. Our two experts share a few tips to help you set your ideal budget, avoid overspending, and limit superfluous expenses.
01

The golden rule: Don't spend a dime until you've set a budget

According to Jessie, it's essential that you establish your budget before booking anything for your wedding. "This doesn't mean you can't start visiting venues and comparing vendor prices. Just make sure you don't sign anything before drawing up a budget, as it will be difficult to backtrack later." The important thing is to have a realistic idea of your overall wedding costs before making any commitments.
02

Limit your guest list

Would you rather have a big celebration or an intimate ceremony? The number of guests at your wedding has a significant impact on your total costs. "Even 10 extra people can make a difference in your budget," says Jessie. "The additional table, centrepiece, chairs, and meals can set you back another $1,000." If you're on a tight budget, keep your guest list short and sweet!
03

Choose your priorities

Jessie and Lily recommend that couples make a list of priorities and identify any unnecessary expenses. This exercise allows them to decide how much of their budget to allocate to each expense category. Plus, it helps them balance out their spending and make compromises if necessary.

For example, catering often represents half of the total budget. "If you have a $20,000 budget, you can expect food and alcohol to cost you about $10,000," says Jessie. This is a good way to estimate how much you'll have left for your other expense categories.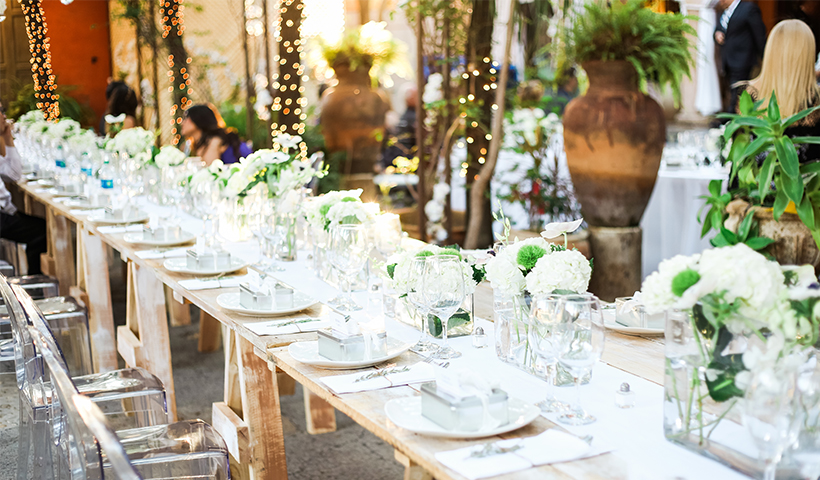 04

Shop around and compare prices

Once your wedding priorities have been established, it's time to shop around and compare prices to ensure you're making informed decisions. Here, Jessie and Lily share some typical price ranges to give you an idea of your total wedding budget.
Wedding dresses, suits, and bouquets
A wedding dress costs between $1,000 and $4,000. The price of a suit can vary widely, depending on whether it's rented, bought, or tailor-made, but is usually between $300 and $1,000. The bride's bouquet can cost $200 or more. "However, you can get a very nice bouquet for $100 to $150, depending on its size and the flowers you choose."
Music
The price of a band or DJ usually depends on the number of musicians, their reputation, and their equipment.
A small group of musicians can cost between $350 and $1,500
A DJ costs between $750 and $2,000 for an eight-hour performance
A jazz trio costs between $1,500 and $3,000
A band for the dance party costs between $2,000 and $4,000
Caterer
You should budget $60 to $100 per guest for a 100- to 120-person wedding, but the price all depends on the caterer and number of courses.
Centrepieces
Floral arrangements generally cost between $75 and $125 per table, depending on their size and the type of flowers. Certain companies also rent decorative objects like chandeliers and lanterns for $10 to $15 apiece.
Invitations
On average, invitations are $5 to $10 each, depending on whether you've hired a graphic artist or ordered your invitations online, and whether the price includes a separate information card or RSVP card.
Photographer
Set aside at least $2,000 to $4,000 to book a photographer. Prices will vary depending on their experience and the number of hours worked.
Saving tips
If you're willing to get creative, there are plenty of ways to reduce your overall costs. Here are some tips to get you started!
Rent your wedding dress and suit from specialty shops like Oui, je le veux or Loue1Tux [in French].
Rent decorations from wedding sites like bazarmariage.ca [in French] or classified ad sites like LesPAC or Kijiji.
Make your own centrepieces or wedding invitations. Getting crafty will not only help you reduce costs, but also add a personal touch to your special event.
Call upon your circle of friends and family. Ask your sister-in-law to contribute some of her incredible homemade natural soaps for wedding favours, or get your musician cousin to play during the ceremony.
05

Avoid the "We might as well!" trap

While it can be tempting to splurge on extra items or services to make your wedding day truly unforgettable, it's important to exercise caution when adding on new expenses, especially if they'll need to be multiplied by your number of guests. "Spending an extra $5 on decorations isn't a big deal," says Jessie. "But switching from a $30 to a $35 bottle of wine, or choosing a different soup that costs $3 more, can really hike up your final bill."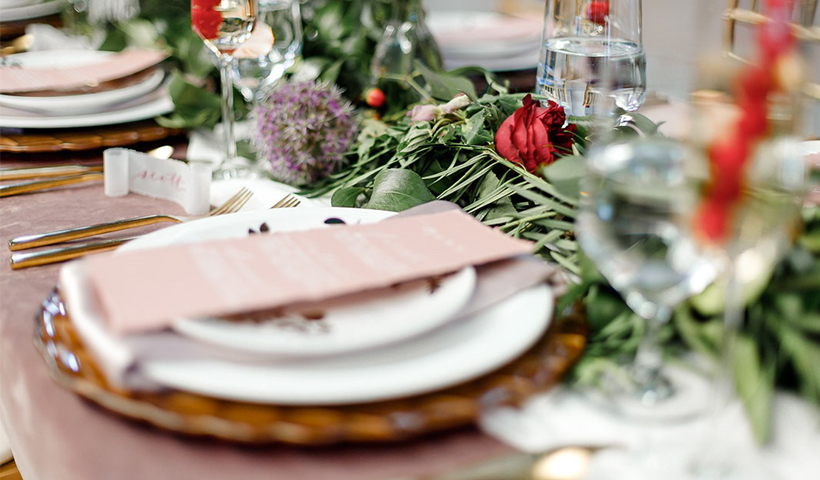 06

Get married during the off-season

Selon According to the same 2015 survey, 67 percent of weddings are held between June and September. However, outside of peak periods, venue owners are often more willing to negotiate, which can help you save hundreds of dollars. Jessie suggests that couples avoid booking during the tourist season and on public holidays. "Your venue will probably cost the same, but your guests might see a difference in hotel room prices, for example."
07

Limit your photo budget

Hiring a good photographer is a must for your wedding, as they're responsible for capturing your special day. Since a professional photographer can be quite expensive, you may want to hire them for only a few hours instead of the entire event. "Not everyone cares about having photos of the dance party, and this can make a big difference in your budget," says Jessie. She also points out that the photographer's travel fees will bump up the overall price. If you'd still like to have a few mementos of your evening festivities, consider setting up a shared Google Drive or iCloud folder where wedding guests can share their photos.
08

Reduce wedding planner expenses

Some couples consider wedding planners to be a luxury expense. It's true that this specialized service can cost between $5,000 and $6,000. However, according to Jessie and Lily, many couples see it as an investment, not an expense. "We're here to guide couples through the wedding planning process. We help them set and follow a budget and ensure that all contracts are in order." What's more, most professional wedding planners have special agreements with trusted, top-quality vendors. "While hiring a wedding planner won't necessarily save you money, it will definitely take a big weight off your shoulders!" say Jessie and Lily.

Budget-friendly options are also available. For instance, wedding planners who are just starting out in their careers may be more willing to negotiate. However, it's important to ask questions and understand how they work to make sure you're on the same page.

Some wedding planners, including Jessie and Lily at Hôte Événements, also offer an hourly consultation service. This is a good compromise if you're interested in getting a professional's opinion.

If you do decide to take the reins and plan your wedding yourself, remember to always request quotes from your potential vendors, and to keep all your receipts in case any issues arise.
09

Round out your wedding budget with your guests' cash gifts

In the above-mentioned 2015 survey, 61 percent of brides said that they were counting on their guests' cash gifts to round out their budget. While giving a financial gift is completely at a guest's discretion, Jessie and Lily believe that, on average, wedding guests give between $50 and $100 each. "Today, gift registries are quite rare, since couples tend to move in together before they get engaged," says Jessie. "Many of them prefer to receive a cash gift that will help cover wedding costs or fund other big projects, like a new baby, a down payment on a house, or their honeymoon."
We suggest having a 5 percent financial cushion in case of unforeseen expenses. But if you took the time to establish a budget, you shouldn't have any major surprises.
– Jessie Harvey
You now have a good idea of which wedding expenses to plan for and how to allocate your funds wisely. Make sure to follow Jessie and Lily's valuable tips to help you shrink your overall costs.
The Fonds de solidarité FTQ budget spreadsheet can also help you set and follow your wedding budget, and give you peace of mind as you plan your special day.
These articles may be of interest to you