8 tips for managing your finances
Whether you've made a new resolution or are changing your life habits, money management skills are both highly beneficial and completely within your reach.
Have you decided to take charge of your finances? Rest assured, you don't have to be an expert on the subject to manage your assets. Here are eight principles that are easy to adopt and can help you stick to your budget.
01

 Make time for managing your money

Getting organized pays. Start by making a list of all your sources of income and all your expenses. To give you a hand, you can try our budgeting tool. It'll help you plan future expenses but also analyse your past spending. So you'll be in a better position to see the kinds of behaviour you need to change to reduce those nonessential expenses and maybe even step up how much you save!
02

 Think before you spend

Managing your money is an everyday activity; look at your buying habits and try to make the distinction between responsible spending and depriving yourself. For instance, if you like to shop, go for it! Get yourself that new sweater or that new pair of jeans, but shop wisely. Wouldn't finding that item you've always wanted in a thrift store be a more economical solution?
03

 Get your money working for you

Managing your finances can give you a whole new perspective on your money. You'll see that it's not all about doing without today so you can enjoy your money down the road. It can also be about helping your savings grow using the power of compound interest, which could generate returns not only on the money you invest, but also on the interest you've earned in the past! To take advantage of this, you could invest in savings products like mutual funds. Establishing your investor profile helps you evaluate your risk tolerance so you can make decisions that align with your financial goals.
04

 Distinguish between good debt and bad

Among the good kinds, there's debt that lets you launch a project, like getting a loan to buy a home, go to school or start a business. On the other hand, debt that does not help your overall assets grow can become a source of anxiety over time. Credit card debt and lines of credit are examples, where the accumulation of many small amounts can add up to a balance that's very hard to pay off under the high interest load. It can therefore be beneficial to determine which kind of debts you have and, if necessary, put together a plan to get yourself out of debt.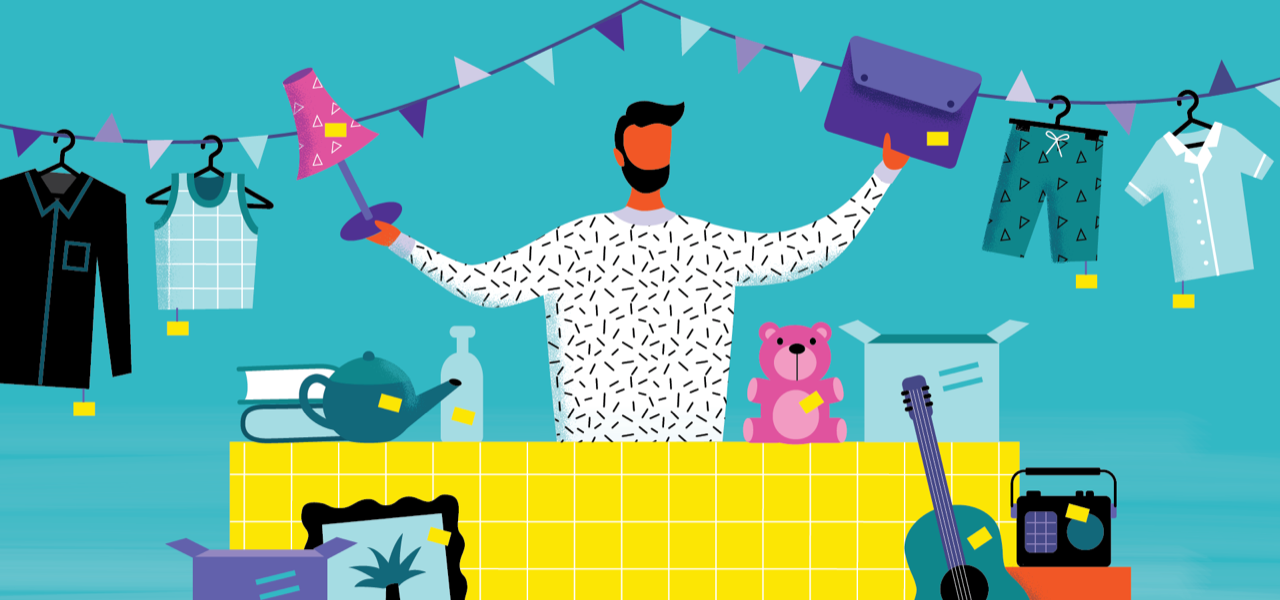 05

 Swap, sell, reuse

There are plenty of alternative means of increasing your income or reducing your expenses: use social media or specialized sites like Kijiji to swap items, buy second hand or sell things you no longer need. You might even put your hobbies to good use by turning them into opportunities to work at home. For instance, a lot of people who are into crafts make a little money on the side by selling their work online through sites like Etsy.
06

 Maximise your work benefits

If you are making a monthly contribution to your employee benefits plan at work, get as much out of it as you can! As required, get informed about the types of benefits you can claim, the number of visits to specialists you have the right to see and the percent reimbursement you are entitled to. Planning your trips to the optometrist or dentist can be a great way of putting the benefits you are eligible for to good use.
07

 Save on taxes

You'll be surprised by the taxing savings that may be available to you. For example, you can consult the Revenu Québec and Government of Canada sites to see if you are eligible for certain tax credits like the Tax credit for children's activities. You can also choose to make contributions to an RRSP. Reducing your taxable income, these contributions can help lower your overall tax bill. What's more, some RRSPs, such as those offered by the Fonds de travailleurs, comme with additional tax credits. At the Fonds de solidarité FTQ, these amount to a 30%* credit on top of your usual RRSP deductions. You can calculate your RRSP tax savings using free online tools like our tax savings calculator.
08

 Follow financial trends

Without necessarily becoming an expert on the markets, staying informed and on top of economic news can help improve how you manage your personal finances. For instance, in case of an economic crisis, you can decide to plan your spending differently or re-evaluate your investments as well as your investor profile in case your situation changes.

Managing your personal finances is a skill like any other: with practice and keeping a steady course you will start to see results. It's not about depriving yourself, but choosing how to spend your money and on what. As there are many ways to optimize management of your personal finances, it's about keeping an eye on your current expenses so you can identify where improvements can be made, using a bit of ingenuity and organization. Try out the exercise and see how you can lower your expenses without cutting into your enjoyment! Your personal finance specialist can also help you by accompanying you in this process and by answering any questions you might have.

Legal notes

*The Fonds de solidarité FTQ's shareholders will receive 15 % in tax credits from the Québec government and 15 % from the federal government. They are capped at $1,500 per fiscal year, which represents a $5,000 purchase of shares of the Fonds de solidarité FTQ. Please read the prospectus before buying shares of the Fonds de solidarité FTQ. Copies of the prospectus may be obtained on the Website

www.fondsftq.com

, from a local representative or at the offices of the Fonds de solidarité FTQ. The shares of the Fonds de solidarité FTQ are not guaranteed, their value changes and past performance may not be repeated.

Prospectus En ( 878 Kb )
These articles may be of interest to you