Plan a successful date for $20
If you have a $20 in your wallet, the possibilities for the perfect date are endless. Not convinced? Discover our tips for dating on a dime.
While treating your significant other to fancy dinners and extravagant outings is fun, your bank account is sure to suffer the consequences. Thankfully, there are plenty of ways to woo your date without worrying about the bill. That's right—you can be romantic and thrifty! Read on to learn how to plan a delightful first (or second) date for $20 or less.
Where, when, and how to make your date swoon for $20
Whether you're a city dweller or nature lover, with a preference for long summer walks or winter adventures, you can organize a romantic escapade with just $20. The secret? Embrace the outdoors!
Instead of opting for a stuffy restaurant or noisy bar, spend time outside in a casual environment where you can properly get to know each other. Fight the urge to spend to impress. At the end of the day, your creativity will leave a much stronger impact. Plus, the fresh air will do you good if you fall head over heels!
Nature lover? Plan a picturesque picnic for $20
Your destination doesn't need to be miles away to be romantic. Your neighbourhood park, a waterfront rest area, or even a fountain-side bench can become a lovely backdrop for your day out.
Give your picnic spot some added ambience with a tablecloth, blanket, or candles. Bring all the essentials: wine glasses, cups, or thermoses (depending on your menu) and plates, napkins, and cutlery. Opting for real dishware as opposed to the disposable variety is a great way to add a touch of class to your meal while being eco-friendly. Plus, it won't cost you a cent! You'll have $20 left to put together a delicious meal that you can enjoy over intimate conversation.
From summer to fall
These picnic lunch staples and refreshing drinks are perfect for a long afternoon spent getting to know your new flame.
Baguette from your local bakery: $4
Cheese: $5
Grapes: $3
Nuts: $4
Iced tea with lemon: $0.50 for the tea and $1 for the lemon
OR
Raspberry sparkling water: $1.50 for the sparkling water and $2.50 for the raspberries
Ice: $0 (homemade)
Total: $17.50 or $20, depending on your chosen drink
In the fall, many ski hills offer chairlift rides above the colourful canopy for about $3 per person. Simply replace your drinks with water and lose the grapes, and you've got enough cash for this exciting activity. The gorgeous view from the mountain's summit might take your breath away!
From winter to spring
A plateau with a view, a forest clearing, and a backyard campsite are all great places to create a scene worthy of a rom-com. Since you don't want to venture out into the cold empty-handed, invest your $20 in some provisions: hot chocolate or tea will warm your bodies and your hearts!
Dark chocolate: $5
Milk: $3 to make homemade dark hot chocolate. Don't forget to bring two thermoses!
Box of cookies: $4
Dried fruit: $4
Total: $16
OR
Tea: $0.50 x 2 = $1
Homemade poor man's pudding (served in a thermos): $10
Entry to the city's skating rink or sledding hills: $2 x 2 = $4
Total: $15
Regardless of your chosen activity or menu, cold weather is the perfect excuse to cuddle up. For extra comfort, bring along a few blankets. You'll be able to extend your date into the evening and maybe even do some stargazing.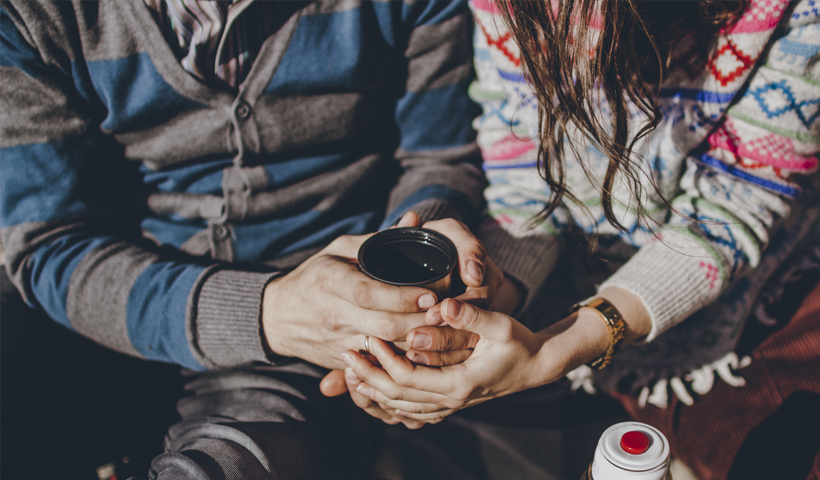 City dweller? Organize an urban outing for $20
If you live in the city, don't despair! You have just as many great date options under $20. Go explore a new neighbourhood, stroll down pedestrian streets, or admire the architecture. These easy ideas require little to no preparation. You can discover your city's hidden gems on foot or by bike, and stop for a rest at any time.
To make sure you stay on budget, schedule your outing during non-mealtime hours. Cafés, ice cream shops, bakeries, and juice bars are all great places to grab some cheap eats and refuel while getting to know your date.
In warm weather
Cold-brew coffee from a new café: $4 x 2 = $8
One pastry each, made with local, seasonal fruit, like a strawberry tart or blueberry muffin: $4.50 x 2 = $9
Total: $17
In cold weather
Chai latte: $4.50
Cappuccino: $5
Cinnamon roll, date square, or other pastry: $4.50 x 2 = $9
Total: $18
Taking your date on a non-traditional outing is a great way to leave a lasting impression. It's also an opportunity to get to know each other in a more intimate setting, where conversation can flow naturally and you can practise the art of seduction. No need to empty your wallet to fill your heart with wonderful memories. Whether you're looking for a perfect first-date idea or hoping to impress your long-time partner, consider planning one of these magical outdoor escapades for only $20. Where will you go?
These articles may be of interest to you