New Look Vision Group : Beyond retail
New Look Vision Group has experienced steady growth since its creation and is now a flagship company in the Québec business world. Here's its story.
It all began in Québec City in 1986, with the founding of New Look Eyewear. Today, the company has four main banners, 391 stores in North America, and 2,100 employees, including 1,000 in Québec. In 2019, it reported record annual sales of $297.9 million. A partner of the Fonds de solidarité FTQ since 2013, New Look Vision Group is currently the largest group of optical retailers in Canada. Antoine Amiel, the group's president and CEO, explains how this Québec gem, which has seen steady growth over the years, contributes to our society and economy.
About New Look Vision Group Inc.
Industry sector: Distribution and consumer goods
Services: Eye care products and services
Date established: 1986
Partner of the Fonds since: 2013
Number of employees: 2,100
Banners: New Look Eyewear, Vogue Optical, Greiche & Scaff, and IRIS
Locations: Québec, Canada, and the United States
A vision for long-term growth
New Look Eyewear was founded in the 1980s. The company started to grow its operations by opening new branches, first in its hometown, and later in Montréal. After several years of expansion in Québec, the company implemented a new strategic plan in 2012 to take the business one step further. The acquisition of Vogue Optical headquartered in Charlottetown, Prince Edward Island, marked a new chapter of its history. "At the time, Vogue was worth as much as New Look. It was a pretty big gamble, so we had to raise capital," explains Antoine Amiel, president and CEO of New Look Vision Group.
With the acquisition of 74 branches in Eastern Canada, New Look Vision Group doubled in size and started expanding in the other provinces. This period also marked the beginning of a long-term relationship with the Fonds de solidarité FTQ, which extended an initial loan to the group so that it could complete this major transaction.
"I was very impressed with how the Fonds works. Their team takes the time to understand our situation, they're proactive, and they keep their word. These were good building blocks of trust," says Amiel.
New Look Vision Group continued to grow over the years. It acquired the 49 branches of the Québec optical retailer chain Greiche & Scaff, located mostly in the Montréal area. Then purchased stores, notably in Ontario and British Columbia. In 2017, the group obtained a new loan from the Fonds de solidarité FTQ, which allowed it to acquire IRIS and its 147 branches. The transaction proved to be instrumental in the company's growth. For the second time, New Look doubled in size. Purchasing the local company not only strengthened the group's position as the top eye care and services provider in Canada, but also helped to maintain jobs in Québec.
The Fonds and the consumer goods industry
In Québec, the consumer goods sector is highly dynamic and competitive. Given that Québec companies find themselves increasingly in competition with foreign multinationals, it's important that manufacturers, distributors, wholesalers, and buyer groups be reactive.
Their biggest challenge is figuring out how to consolidate their position in the market and build loyalty among a clientele whose tastes are constantly evolving.
Thanks to our expertise in corporate financing, our mastery of business environments, and our capital, we can support local businesses wishing to carry out projects that create value. Business transfers, mergers, acquisitions, growth plans, and other projects are vital to our economy because they help create, maintain, and safeguard quality jobs in Québec.
A responsibility to the community
Amiel is aware of the important role that New Look Vision Group plays in Québec. The company's mission is to improve the quality of life of Québecers and Canadians. "We have a public health responsibility," he says.
Amiel explains that, statistically, people see an eye doctor about six months after they notice a decrease in vision quality. "When a patient comes back to the store and tries on their glasses for the first time, it's a magical moment. For a nearsighted or farsighted person, it means they're seeing things they couldn't see before," he says. Normally, the New Look Vision Group performs 3,000 eye exams per day. "This is an opportunity for us to improve the quality of life of 3,000 Canadians," says Amiel enthusiastically, illustrating one of the practical ways in which the Fonds' corporate partners contribute to our society's health.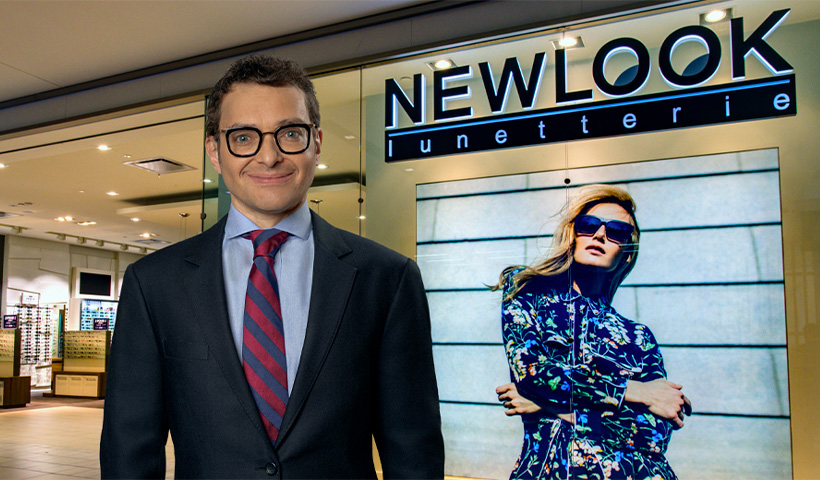 Beyond the daily benefits of its services, New Look Vision Group contributes to the well-being of its community in many other ways, notably by distributing eyeglasses to people who can't afford them. "We have a recycling program for used eyeglasses, usually left behind by customers who came to the store to pick up a new pair. We repair them and donate them to people in need. That also allows us to reduce waste," he says. In the same vein, the group launched the Guardian Angel program in an effort to support health care professionals during the coronavirus crisis. Through the program, health care professionals without insurance can have their glasses replaced without delay, at the group's expense. "The last thing we want is for a hospital worker to have the wrong glasses," says Amiel. "We've made a few thousand pairs, mainly for workers in the greater Montréal area. We've also been able to quickly distribute safety glasses, as the product is already part of our offering."
A mission that transcends borders
New Look Vision Group is broadening its mission to improve eye health worldwide through its non-profit organization, IRIS Mundial. Every year, the organization sends about 200 volunteers (ophthalmologists, optometrists, opticians, and nurses) to a developing country, where they spend six weeks running a clinic and providing eye care to the most vulnerable populations.
Valuing the human element
New Look Vision Group's belief in the values of authenticity and respect, whether in its dealings with business partners, employees, or customers, has played a crucial role in its success. "We have an enormous amount of respect for our people. That's why we only make significant acquisitions when we find exceptional teams," explains Amiel. "For example, we decided to invest in Eastern Canada with the purchase of Vogue Optical Group in 2013 primarily because we found an extraordinary team at Vogue that was willing to commit and stay with us after the acquisition."
New Look has stayed true to this principle throughout its business growth. "I am immensely grateful to everyone who has supported us. That includes our growing number of customers and the new executives who have trusted us and joined our ranks. We've never lost an executive we acquired, which is probably one of the most important indicators of success for us," says Amiel.
He also states that the group has worked hard to ensure its employees' well-being by offering continuous support, namely in the form of attractive career prospects within the company and training opportunities. New Look's commitment to its employees was particularly apparent when the coronavirus crisis began to impact the group's activities. "We closed the vast majority of our stores in Canada to help fight the spread of the virus, so many of our employees had to be temporarily laid off. However, we made a pledge to cover at least 80 percent of their salaries through a supplementary wage program, which complements employment insurance," he says. "For someone who works in a fast-paced environment like retail, it can be difficult to be housebound. From the beginning, we made sure that our employees would have peace of mind and not have to worry about potential financial difficulties."
The group also implemented several initiatives, including two weekly newsletters and a weekly webinar, to keep employees informed and to ease their anxieties. "We wanted to give them all the moral and psychological support they needed to get through the crisis."
The importance New Look places on the human element of business is also evident in its interactions with the Fonds over the years. "The relationship we have with the Fonds is really a partnership, a person-to-person connection. In the world of finance, it's not always like that," says Amiel. "We have every intention of pursuing our growth alongside the Fonds. Plus, we're very grateful to be one of the companies the Fonds has chosen to invest people's savings in. We understand that it's a big responsibility."
The money invested in the Fonds by shareholders-savers is in large part what allows us to support companies like New Look Vision Group. Through its expansion strategy, this Québec-based group has helped consolidate the eye care products and services sector and, ultimately, maintain jobs in Québec. Moreover, despite the coronavirus crisis, New Look Vision Group continues to look to the future. In June 2020, the company secured new funding from its financial partners, including the Fonds, in order to protect its financial stability and lay the foundation for new opportunities that will arise once the economy begins to recover.
These articles may be of interest to you