​Starting your career means extra income—and expenses!
Tips on how to manage your money when starting your first job.
Once you've completed your degree, securing a job is the next big step. It's something to be proud of and celebrate with your friends and family. Starting your career comes with its share of benefits, including a real salary—but can also lead to unforeseen expenses. Here are four tips to help you keep control of your finances.
We all remember our first paid job, whether it was mowing the neighbour's lawn, vacuuming the house, or working a summer job to pay for ice cream cones and movie popcorn. We feel a similar rush when we earn our first real paycheque. While a salary boost is fun, it unfortunately comes with new responsibilities and expenses.
But that doesn't mean you should worry needlessly. The important thing is to be organized and ready to manage your new income. How? Read on for a few helpful tips.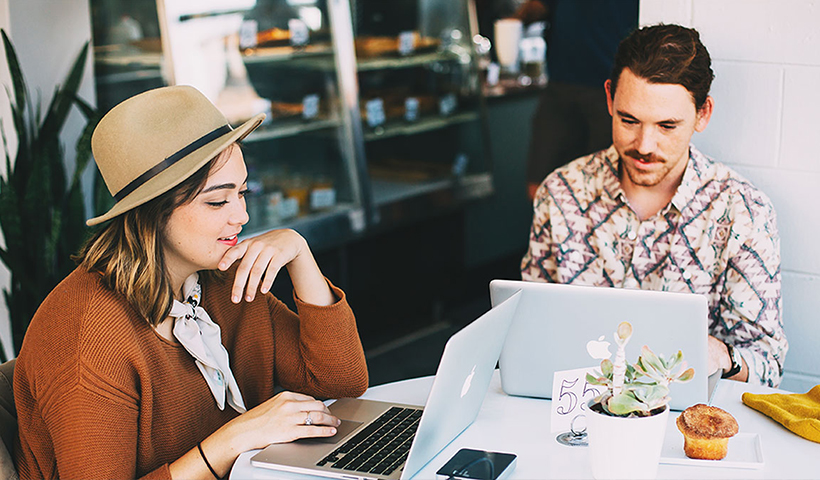 01

Save for an exciting project

Not everyone saves the same! Some are better at long-term saving for ambitious projects, whereas others prefer to have short-term goals for more spontaneous spending. Once you have a project in mind, it's time to set your saving objectives. This will help you better manage your income. Consider whether you're saving for a medium-term (i.e., a few months) or long-term (i.e., a few years) goal. Are you hoping to buy your first car, a condo, or a cottage? Where there's a will—and smart money management—there's a way!
02

Balance your spending

There are so many things you can do with your first paycheque: buy five pairs of new shoes, spend the night at a Star Wars–themed hotel, or try caviar for the first time to see what all the fuss is about.

But don't run to the mall with your credit card in hand, ready for a YOLO shopping spree. To avoid overspending, transfer part of your paycheque to a savings account and set aside a separate amount for well-earned outings and fun expenses. Depending on your salary, you could save $25, $50, or more per pay period. As your savings grow, so will the possibilities. Think of what you could do with $250, $400, $1,000, or more! With this strategy, you'll have enough money to cover your living expenses, like rent, as well as unexpected expenses, like car repairs. It pays to balance your spending!
03

Make a personal and professional wish list

Getting your first paycheque is like taking your first step toward adulthood. You can't wait to experience all the wonderful things the world has to offer! But you can't buy everything you need for your new life and new career with a single paycheque. The trick is to go step by step, without spiralling into a panic or obsessing over specific purchases. Making a list is a great way to see things clearly. Why not give it a try? Below are a few items that are worth the high price tag:
A quality work outfit
A nice pair of comfortable, well-made shoes
An iron, because no one likes wearing a wrinkled shirt to work
A good mattress, because sleep is essential to be at your best—even when you're young!
A high-end coffee maker and a durable, portable thermos (one that won't spill hot coffee on your lap every time the bus or metro lurches to a stop)
Pots, plates, glasses—all the kitchen basics to help you hone your cooking skills
04

Take the time to budget

Managing your money is an unavoidable part of adulthood. While nobody wants to spend their precious spare time staring at a calculator, making a budget doesn't have to be a chore. Simply determine your current income and expenses, making sure to include your debt repayments so your credit score doesn't take a nosedive. You can also use our monthly budget tool, which lists all the expense categories for you. Who says making a budget has to be complicated?
These articles may be of interest to you