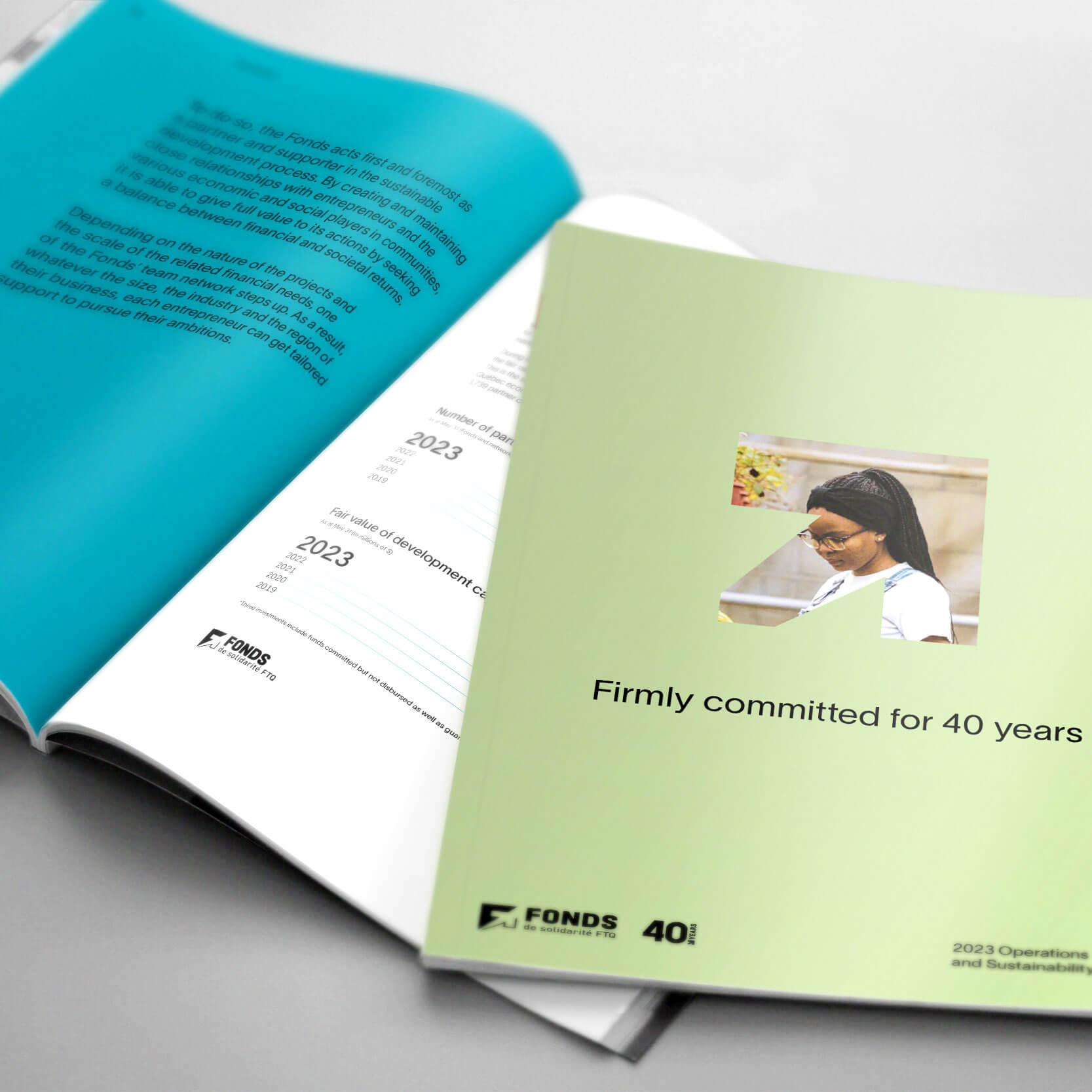 Get your digital copy of the 2023 Operations and Sustainability Report
In addition to returns, our investments aim to contribute to the well-being of society by integrating objectives such as creating and maintaining quality jobs and providing support for local and regional economies.
+79 personal finance training courses
in the private, social economy, public and parapublic sectors.
Fully committed to a decent retirement
"In general, people don't like to talk about money. There's nothing like human contact to inspire confidence. It's the only way to to ensure they feel comfortable telling their story, saying what worries them and asking questions about what they need to do"
Colette Beaupré
Clerk, fruits and vegetables, bakery, bulk, natural products - MAXI Châteauguay
Local representative for grocery and hardware stores on Montreal's South Shore - Fonds de solidarité FTQ
47% growth
(compared to 2022) in investments with Fonds locaux de solidarité FTQ across Québec.
Fully committed to long-term growth of SMEs
"The financial backing we received from PME MTL and the Fonds locaux de solidarité FTQ came at just the right time, a breath of fresh air that got us across the finish line for marketing our product. Now, we're especially proud to see some renowned Montréal restaurants add our Arctic char to their menus."
David Dupaul-Chicoine
President and Co-founder - Opercule
Over the past year, Asthuce's small team of specialists has added
53 businesses coached to its roadmap.
Fully committed to supporting local businesses
"When it came time to talk to our partners about transferring the business, the Fonds régionaux team showed us right away that they had a thorough understanding of the various issues involved in such a transaction."
Jonathan Gosselin,
President - Soucy Aquatiks
16
new social, community, or affordable real estate authorized projects
Fully committed to sustainable real estate
"The Fonds immobilier de solidarité FTQ knows the community sector well, which leads to constructive, inspiring and rigorous discussions to find sustainable solutions in line with the needs and realities of the people and organizations concerned."
Edith Cyr
General Manager - Bâtir son quartier
The Fonds launches the Fonds de solidarité FTQ Bioénergie
The mandate of the Fonds de solidarité FTQ Bioénergie is to accelerate the growth of the bioenergy sector in Québec by focusing on biomethanization and renewable natural gas (RNG) production projects on a human scale. This new business unit will play a leading role in the fight against climate change and will take part in just environmental transition in Québec.
Share value and returns
Discover the performance of the Fonds' Class A share, which allows you to support the Québec economy by investing locally.
Multiplying our impact
Consult our latest GRI Index online to discover all our sustainability initiatives.
View all the results and highlights of the Fonds de solidarité FTQ's 2023 Operations and Sustainability Report.