"It's going to be okay": When Québecers pull together
From grocery delivery for seniors to online support groups, here are some initiatives that give cause for hope in these turbulent times.
In the face of the coronavirus crisis, Québecers are showing resilience and are more united than ever. They have quickly pulled together to help those who are most vulnerable, proving that solidarity is truly a Québec value. Here are some of the initiatives that have been put in place that could be of use to you too.
Breaking the isolation of the most vulnerable through grocery delivery
When Québec premier François Legault announced that people aged 70 or older had to stay home, a dozen Grade 11 students from Saint-Jean Eudes school decided to do something about it. They created the Les jeunes à l'action Facebook group (in French) to lend a hand to seniors in the Québec City area who need help getting groceries.
"The idea came to us in a flash," says Marika Poirier, co-founder of the group. "We thought of our grandparents, who were going to have a harder time getting groceries and medication." But what motivated them the most to take action, she says, is when they thought about seniors who live alone. "We said to ourselves: School is closed, sports are on hold—why not put our free time to good use?"
The grocery delivery service has been up and running for a month now, and the students are proud to have made more than 350 deliveries. They volunteer their time, while seniors simply pay for the cost of their groceries plus $5 to cover transportation costs. How quickly these young people mobilized to help seniors in their community is particularly inspiring. Since the group's inception, other students at their school have also joined the cause, allowing them to increase the number of areas they serve.
Keeping Meals on Wheels rolling
For Huguette Roy, director of the Association des popotes roulantes du Montréal métropolitain, the coronavirus pandemic has made carrying out her group's mission a big challenge. Meal preparation and delivery are mainly done by volunteers who've had to stay home from the start because of their age. "Fortunately, we've received a host of new volunteers who've enabled us to continue to serve our clientele, which is mostly made up of people experiencing a permanent or temporary loss of autonomy," she says. Approximately 150 hot meals and 100 frozen meals are prepared each day in the central kitchen on Saint-Jacques Street in Montreal, which now operates six days a week instead of the usual five.
Huguette Roy has also made certain that all health and safety measures are applied to ensure that the service complies with government directives. Among other things, volunteers must wear masks and gloves and respect the mandatory two-metre distance from customers when they make deliveries. The generosity of the dozens of volunteers who quickly took up the torch has been instrumental in maintaining this essential service during these difficult times.
Interested in lending a hand?
The Québec government has launched the jebenevole.ca platform, which serves as a hub for volunteer opportunities from more than 1,500 community organizations across all regions of Québec. If you're healthy and have time to give, simply enter your postal code to view opportunities in your area.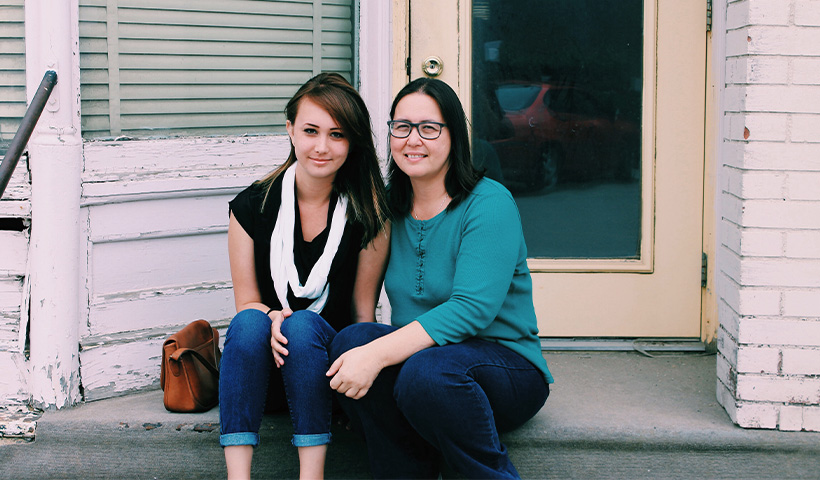 Coming together (virtually)
The physical distancing guidelines prescribed by the government haven't prevented Québecers from finding ways to help one another. Many have turned to social media, creating support groups on Facebook such as Solidarité Laval COVID-19 (Lavallois-es en transition) and COVID-19 | Entraide et motivation Québec (links in French). These groups highlight the good deeds of their community members and allow people to stay connected, from cheering up those who are experiencing fear or anxiety to offering tips and tricks to help others cope with being stuck at home. Some people even offer to cook for others or distribute masks that they've made.
Denis Secret, creator of the Solidarité La Matanie - COVID_19 (in French), went so far as to create a rainbow route on Google Maps, where he lists houses displaying a rainbow as a sign of solidarity so that members of his community can see them without having to go outside. "The response was instantaneous and pretty amazing," he says. Today, some 320 homes in the municipality have rainbows in their windows, and the group has nearly 200 shots of rainbows in its photo album. "The message that 'It's going to be okay' is taking over our town!"
The goodwill spread by these online groups is a source of hope and comfort for many people seeking to break their isolation during this time of confinement by staying virtually connected with the members of their community.
Encouraging frontline workers
Inspired by the viral videos of Italians singing on their balconies, Annie Côté, a former paramedic, decided there had to be a way for Québecers to show their solidarity loud and clear. "I thought of the ice storm in 1998 and of how Jean-Marc Parent, who was very popular in Québec at the time, asked us to flash our lights when we watched his show," says Côté. "I thought it would be a good opportunity to bring back what was a remarkable show of solidarity in Québec." She created the Flash tes lumières COVID-19 20h30 Facebook group (in French), inviting Québecers to flick their lights on and off every night at 8:30 p.m. for one minute to salute the important work of frontline workers and the provincial government. "Since then it's really taken off. We now have over 375,000 members! Jean-Marc Parent is aware of the group and supports the initiative."
Annie believes that her experience as a paramedic has been a big asset in helping her manage the discussions that now take place within the group. "A lot of people are worried, and I feel like I can help them because of my paramedic background, by talking to them or redirecting them to the right resources," she says. "One thing is for sure—the outpouring of collective solidarity that I've seen thanks to this group has shown me that we're all better off than we think." The group has now decided to host live music on Friday and Saturday nights, another great opportunity for members to virtually connect and have fun.
Solidarity is in the Fonds' DNA
Solidarity is at the heart of the Fonds' mission. In this time of crisis, our commitment to helping Québec workers is more important than ever.
In addition to the financial relief measures we've put in place for our partner businesses, we have also mobilized to support the NPOs and other organizations that we do business with. That's why we've made a point of honouring all our sponsorships and support in the form of donations to help those who've had to cancel their events because of the pandemic.
The funds initially earmarked for two scholarships and student activities during the spring 2020 session at the Université du Québec à Trois-Rivières (UQTR), totalling $10,000, have been redirected to an emergency fund for students experiencing financial issues.
$50,000 for United Way's COVID-19 community emergency and recovery fund to help provide services to the most vulnerable.
$40,000 to support the work of the Red Cross during the crisis.
Despite the challenges caused by the coronavirus pandemic, Québecers are standing tall and helping their peers. The spirit of solidarity that so many have shown is spreading hope throughout Québec, a sign of better days to come.