Is money greener than your conscience?
We looked into the question to see if, for Quebecers, the environment or their wallets come first.
If money doesn't grow on trees… can it still protect them? Or is it more likely to see them cut down in the wake of overconsumption? Climate change, the importance of buying local and eco-responsibility are taking up more and more space in the public discourse, but does that mean we actually take the environment to heart when we buy things? Are we thinking about the planet or our pocketbooks when we reach the checkout line? These are the kinds of question we were looking to answer when we surveyed 1002 Quebecers in an opinion poll conducted in collaboration with Léger research.
Like the the survey conducted by the Fonds de solidarité FTQ about the relationship between young people and their money, this year the company is looking at Quebecers and the environment, specifically how it affects their consumption habits. From March 11 to 18, 2019, we conducted an opinion poll among 1002 Quebecers in collaboration with Léger research to get a better sense of their perceptions, their behaviour and their spending habits.


What people know and what they think when it comes to the environment

Do we really believe in climate change?
For Quebecers, the scientific community is right in making the link between human activity and climate change.
Also, 91% of us believe that every little thing counts when it comes to reducing our environmental impact.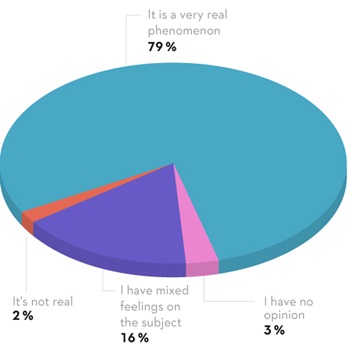 99 % take action daily to help matters, whether that means washing clothes in cold water, closing a light upon leaving a room or taking shorter showers. No act is too small when it comes to collectively trying to live greener lives.
But what drives us to do these things that make a difference?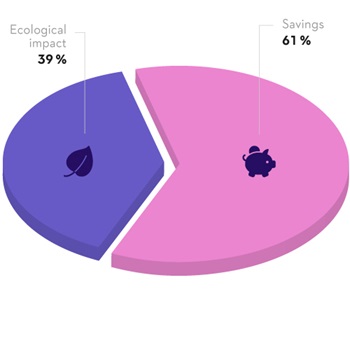 Surprising? Maybe a little, but when we consider how saving energy is a way to help the environment while saving money, it's like the two things go hand in hand. Same goes with deciding to consume less. At the end of the day, whatever our primary motivation, it's a win-win!
78 % of Quebecers agree that, quality and price being equal, the fact that a company takes green action will be decisive in choosing that firm over a competitor that does not.
Buying green, buying local

When we hear that it's not the consumer who should bear the added cost of buying green, what do we think?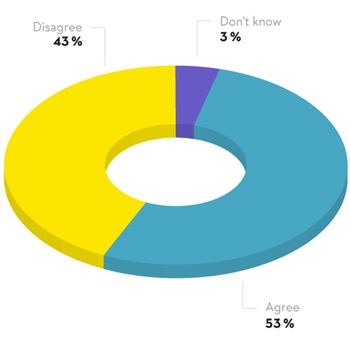 Even if the majority feels the cost burden shouldn't be placed on them, opinions on the subject are mixed.
Currently, many green products come with a higher price tag. Like reusable paper towels, make-up removal pads, non-stick baking sheets, and others. Their higher cost is amortized over their long service lives, which makes them an attractive option. Making your own cleaning products, buying produce in season and buying in bulk helps us save while we make greener choices.

Companies, however, also have a role to play in developing greener production processes and products… so it really is a team effort!
1 Quebecer in 4 is prepared to pay more for an eco-responsible alternative when one is available.
How often do we buy local?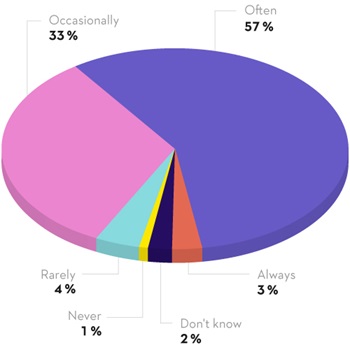 A majority of us make an effort to buy local products, simultaneously reducing greenhouse gases emitted during transport while stimulating the local economy.


60 % of Quebecers buy local always or often, while 33 % do so occasionally. So in one sense, almost all Quebecers are at least making some effort!
Buying local is often more expensive, but you have to remember that local workers and producers are protected by labour laws here and also tend to use high quality materials. The fact remains that it's hard for us to eat local year-round in our wonderful northern country. So we had better take advantage of local produce in the summer, or muster the courage to make all our own canned goods for storage!
Looking over the data, can we really say that money is greener than our conscience? Hard to say! We see that, collectively, Quebecers are making an effort to live greener from day to day, but they are restricted by their budgets.
One thing's for certain, however, we are more conscious of the environmental impact of our consumption habits and of the everyday things we can do. So there's plenty to be proud of… even if we have a way to go! Keep in mind, if we're putting the environment at the heart of our purchasing decisions, the first step is to consume less, which should also have a positive impact on our wallets!
Learn more about Quebecers' green lifestyle habits