How to take an environmentally responsible, affordable vacation
Tips, tricks, and ideas to help you plan your next trip.
You do your best to reduce your environmental footprint in your daily life. But what about vacation time, when it can be harder to make environmentally friendly choices? Here are some tips to help keep up your green habits and keep your environmental impact low, from the planning stage to the trip home!
Before you leave
Picking your destination
Although where you go will determine how many kilometres you travel and, in turn, your environmental impact, these aspects alone shouldn't determine your vacation destination. After all, the point of a vacation is to have fun! You can keep costs low by travelling in the off-season or avoiding overly crowded destinations. For example, Gaspésie is popular in the summer, but it's just as beautiful in the spring or fall. If you're thinking of checking out Québec City, consider staying in nearby Lévis and taking the ferry to Old Québec.
If you're interested in somewhat more exotic destinations that offer sustainable tourism, the NGO Village MondeAttention, this link will open a new tab. connects travellers with remote communities to create authentic, sustainable experiences. Sites like lespagesvertes.caAttention, this link will open a new tab. (in French) provide information on ideal green destinations and activities.
Travel agencies that specialize in sustainable tourism offer environmentally and socially responsible, ethical, and fair-trade travel options. They adhere to strict criteria on things like natural and historic site preservation, small group tours, local partnerships, and carbon-neutral travel. Some of these agencies, like Club AventureAttention, this link will open a new tab. and KaravaniersAttention, this link will open a new tab. (in French), are pioneers in the field and have been promoting environmentally responsible tourism for decades. Voyages CosteAttention, this link will open a new tab. specializes in travel to Quebec's North Shore.
You could also consider a staycation, which means spending your vacation at home. It's the most ecological and affordable type of vacation there is. This way, you skip the long-distance travel and accommodation costs as you play tourist in your own backyard!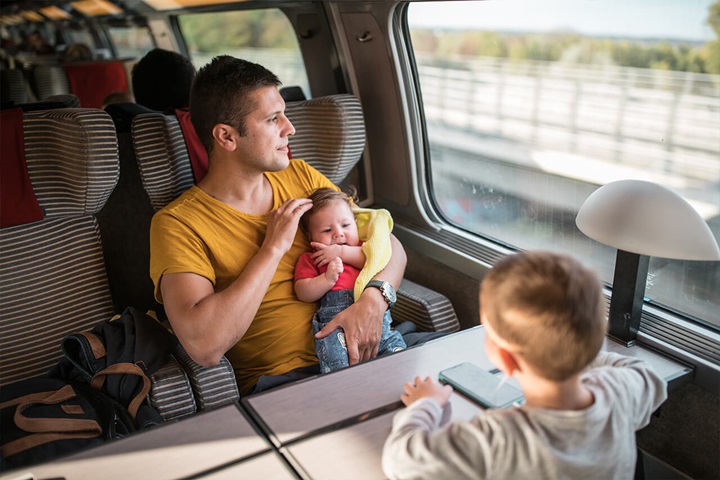 Getting around
We tend to travel by car when we're on vacation. However, the train or bus can be an economical alternative whether you're travelling alone, in a pair, or as a family, especially if you buy your ticket several weeks in advance.
Once you reach your destination, using public transit (bus, subway, train, tram, bike share service, etc.) can also help you save on parking and gas.
Active transportation is another option. Why not plan a bicycle trip? Quebec's Route verte is a 5,300-km bike path that stretches across 18 tourist regions and provides access to Ontario, New Brunswick, and the United States. It's a truly unforgettable experience!
Sleeping with peace of mind
Some accommodation options are more environmentally friendly than others. Their operators' commitment to running a sustainable business sets them apart.
You can visit the Société des établissements de plein air du Québec (SÉPAQ) site to find green accommodations in Quebec. Quebec Adventure Outdoor's site offers a list of accredited ecotourism companies, including a section dedicated to various types of outdoor accommodations. If you're cycling, Vélo Québec provides a list of accommodations with a Bienvenue cyclistes! certification. Certified establishments offer bike maintenance tools, plus information and services geared toward cyclists.
Both at home and abroad, you can find lodging with Green Key Global certification. This organization, active in 57 countries, aims to help businesses become socially responsible through sustainable community initiatives.
Packing your bags
Travelling responsibly also means thinking carefully about what you want to bring. If you're flying, you'll probably want to travel as light as possible, since the heavier the plane is, the more fuel it uses and the more CO2 it emits. That said, there are some accessories and personal hygiene products that you'll need to bring. Reusable items that you can carry with you, like water bottles, utensils, and cloth shopping bags mean you can avoid disposable items. To cut down on packaging, opt for soap and shampoo in bars instead of plastic bottles. That way, you can also skip the little bottles available in hotel rooms and reduce your plastic consumption.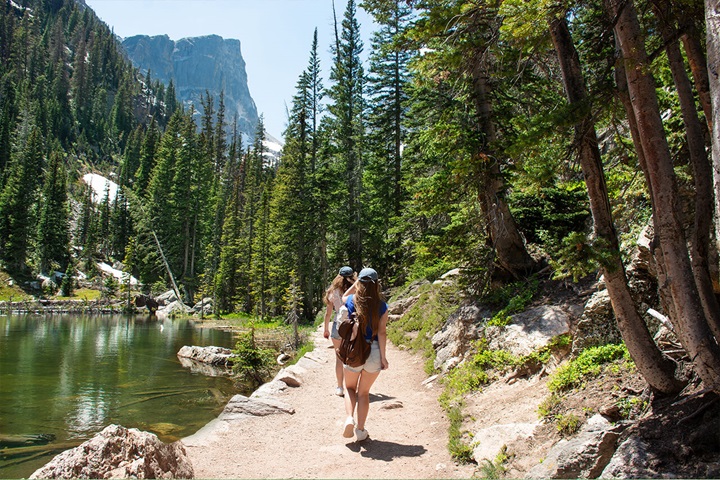 While you're away
Choosing environmentally friendly activities
Outdoor activities like hiking and swimming are a great way to enjoy the beauty of nature. Quebec has over 100 nature interpretation centres where you can learn how to protect plants, animals, and nature. The Plein air à la carte Guide (in French) is dedicated to Quebec's great outdoors, with a list of 70 ecological sites to visit in the province. Admission fees are often low, and many sites offer discounts for families. No matter what outdoor activity you decide to do, it's a good idea to get informed on the site's environmental protection rules. The Canadian organization Leave No Trace has a list of seven principles to keep in mind when you're out in nature.
Festivals and other cultural activities are also an excellent way to get to know local communities. These events are becoming increasingly aware of their environmental footprint and taking a carbon-neutral approach. Plus, outdoor festivals often offer free activities for the whole family.
The Réseau COOP (in French) offers a list of cooperative businesses in Quebec, including microbreweries, farms, travelling theatre companies, and archeological sites, that have adopted socially responsible values
All these tips also apply if you're considering a slowcation, where you take your time to visit a particular region, appreciate your surroundings, meet the locals, and discover all that the area has to offer. A slowcation means travelling less between sites or cities and using non-polluting transit, making it compatible with environmentally responsible tourism.
Eating local
One way to practise fair-trade tourism is to experience the local culinary delights. Farmers' markets are an ideal way to learn about regional specialities. If you're travelling in Quebec, be sure to check out the Association des marchés publics du Québec (AMPQ)'s list (in French). Quebec also has several food-inspired routes designed by producer associations, like the Beer Route in Eastern Quebec, the Chemin du Terroir in the Laurentians, the Route des saveurs in Charlevoix, Les Têtes Fromagères cheese route in the Eastern Townships, and the Wine Route in Estrie.
Last but definitely not least, farms where you can pick your own fruit are an affordable way to get fresh produce and meet passionate producers. Not to mention the many restaurants, diners, and food stands of all types where chefs, cooks, and "potato kings" proudly prepare their local specialties for you to discover!
Encouraging artisans
If you're in the habit of bringing home souvenirs, buying ones crafted by local artisans is an excellent way to foster the regional economy while also creating lasting memories. The Economusée Network Society, which includes over 70 members worldwide, can help you discover artisans right here in Quebec or in places like Saskatchewan, Ireland, and Greenland.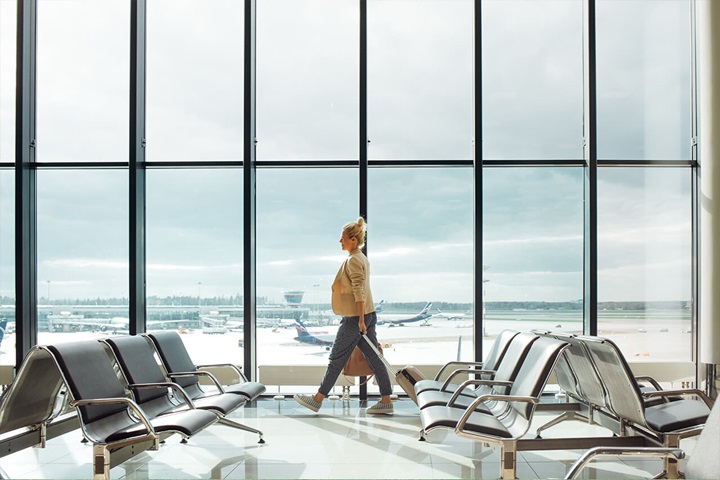 Coming home
Buying carbon credits
If you did a lot of driving during your vacation or if you had to fly, you can offset your greenhouse gas (GHG) emissions by purchasing carbon credits.
Planetair helps anyone who wants to reduce or offset their carbon footprint. It's a reliable resource if you want to learn more about how to buy carbon credits. The website features a calculator so you can determine how much CO2 (in tonnes) you emitted during your vacation. Since one tonne equals one credit, it's easy to calculate how many credits you need purchase to offset your consumption. Money invested in credits supports energy efficiency, renewable energy, and reforestation projects that have a real impact on climate change. For every tonne of CO2 that you emitted, one tonne is removed from the atmosphere.
Martin is a strategy manager for a web agency and was able to test the carbon credit purchasing process for himself. Before the holidays, he was looking for a gift to thank his team for their great work during the year. He got the idea of investing in carbon credits after hearing a report on the subject.
"I wanted to make a concrete environmental gesture on behalf of the group, and, to me, carbon credits seemed more valuable than buying goods to thank my team!"
He researched several organizations before making a choice. For Martin, the most important criterion was the credibility of the organization he was going to invest in. Once his choice was made, the site's calculator tool made it easy to calculate how many credits to purchase.
Vacations shouldn't be a source of financial or environmental stress. After all, if your vacation is stressing you out, it defeats the whole purpose. The most important thing to remember is that whether you're at home or away, every little bit counts. It's the sum of the whole that will make a difference in the end. A refreshing vacation that sticks to your budget and respects the environment is within your grasp. It's up to each of us to make our own choices according to our means and circumstances!
These articles may be of interest to you