COVID-19: What we've learned
Four Québecers share observations, reflections, and lessons learned since the start of the pandemic.
Article published on 2020-09-01 | Updated on 2020-09-04
Our world has changed rapidly since the start of the pandemic. Between school closures, remote work, face masks, physical distancing, and job losses, COVID-19 has affected us all, and not just in terms of our health. In the following article, we hear from Annie, who works in the health care sector; Éric, who is self-employed; Rébecka, who feels fortunate to have kept her job; and Cyril, who's learned how to balance working from home with being a parent. They share what the COVID-19 crisis has taught them about stress management, work-life balance, their personal finances and spending habits, and their ability to adapt.
01

New ways to unwind

For Annie, Éric, Rébecka, and Cyril, the crisis has been a major psychological challenge. Forced to spend much of their time on their own, they've had to confront uncertainty and the unknown.

As a hospital worker, 28-year-old Annie felt her stress levels spike as everything around her intensified: her workload, patient anxiety, and the fear of catching and spreading the virus. "It was really tough!" she says. "The crisis has taught me to live more in the moment—to find new strategies for taking my mind off work and handling change and the unknown."

Rébecka, 36, has felt the same. "The hardest part for me has been putting aside things like travel, cultural and social events, and team sports and not having any real outlet. Going for walks in the alleyways around my neighbourhood has helped me get out of my own head."
02

New perspectives on work

From the temporary economic shutdown to the rise of remote work and digital transformation, the sands are shifting in the world of work. "The pandemic hasn't just changed my perspective on work, its changed how my career fits into my life," says Rébecka. "My daily routine is more flexible but still allows me to fulfill my professional responsibilities. The result is a better work-life balance and less stress. I'd have a hard time going back to how things were!"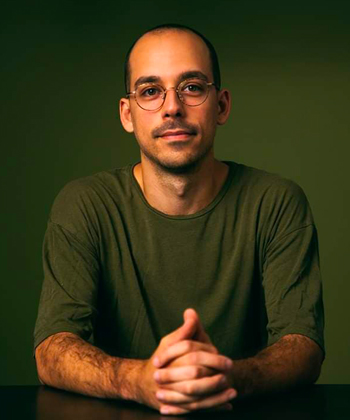 Éric, 28, Montréal.
Éric has also learned to embrace flexibility. "I know that my job is far from essential," he says. "I'm not going to change the world, but I enjoy what I do. I used to be strict about following a certain routine to make sure I was productive. Now, with everything that's happened, I've realized how much I can get done from home. I can afford to give myself a bit of a break."
For Cyril, 45, being able to spend more quality time with his children and no longer having to stress over getting to work or school on time largely outweighs the challenges of working from home with young kids. "It's impossible to do everything at the same time," he says. "I decided early on to block off my lunch breaks to spend time with my kids instead of just working. It made a huge difference!" Cyril also believes we have to accept the new normal: "You don't have to be embarrassed if your 7-year-old daughter pops by in the middle of a videoconference to show you her drawing!"
"Since I work in health care, I was asked to put in a lot more hours at a time when everyone was concerned about the future," says Annie. "It was hard, but it also made me even more appreciative of how lucky I am to have stable, guaranteed employment. That became crystal clear."
03

Clear, realistic savings goals

For Annie and Rébecka, the onset of the health crisis forced a reassessment of their savings goals. After buying a triplex, Annie wanted to invest in her property and go on a trip. Today, she admits that her main motivation to save is financial security. "I'm lucky to have a permanent job with a pension fund, but everything feels uncertain since the pandemic hit. The crisis has really motivated me to build a more substantial financial cushion," she says.
Meanwhile, Rébecka had plans to buy a new house. Given the current situation, she's opted to put those plans on hold, a decision that's affected her resolve to save. "In order to save, I need a concrete objective," she says. "Deciding to postpone purchasing a home has made that objective less tangible, so I've saved less these past few months."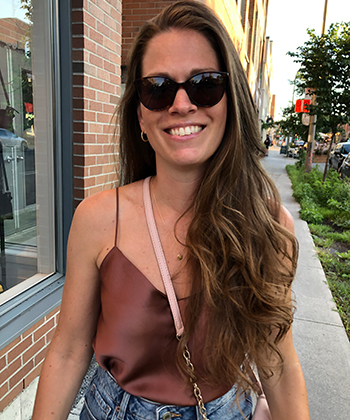 Rébecka, 36, Montréal.
It's been quite the opposite for Cyril, whose savings have grown during the pandemic. A cancelled family trip allowed him to put more money in his kids' registered education savings plans (RESPs) and pay off a bigger chunk of his mortgage. He's also decided to take advantage of his reduced spending to increase his long-term savings.
Éric, 28, doesn't have a well-defined savings strategy. He doesn't follow a budget and has only a few investments. As a self-employed worker, he reassesses how much he's able to contribute to his RRSP or TFSA every year.
All in all, his personal finances are guided by a single rule: always have enough savings to live on for three months with no income and the same expenses. It's a rule Éric also applies to his business, and he's been seeing the benefits since March.
04

The buy-local movement

Buying local has been a hot topic in Québec throughout the pandemic, drawing even more enthusiasm from those already convinced of its merits as well as garnering support from the uninitiated. "For anything cultural, I don't pay attention to the price—it just has to be local," says Éric. "As far as personal items, I prefer buying secondhand. But since the pandemic, I've been buying more things brand-new as a way to support local businesses and people I know."

Rébecka believes that consumption has become a key driver of the local economy. In recent months, she's made a conscious effort to buy from Québec businesses.

"Knowing that a product I've chosen to buy is helping protect jobs in Québec has been a big incentive to buy local. I think there's a greater awareness these days. Buying local has become a collective endeavour."
05

A new reality

Adapting to our new reality has certainly been a collective undertaking. Québecers are having to take a different approach to just about everything, whether it's eating out, enjoying cultural activities, having friends over, travelling (within Québec, of course!), or shopping.

What's more, lifting lockdown measures isn't the same as going back to normal. That's something Éric realized pretty quickly, and it continues to be his biggest challenge. "I meet with a lot of people because of my job. Since my dad is older, I don't want to visit him and needlessly put him at risk," he says.

While the loosening of restrictions has allowed Annie to meet up with immediate family and a few of her friends, human contact remains something she dearly misses. She can't wait for the day it's safe again to give her loved ones a hug.

In the end, perhaps the biggest thing we've learned during the COVID-19 crisis is resilience. The pandemic has brought to light our ability to adapt and our sense of solidarity. Regardless of our age or background, it has pushed us to think differently and to change how we approach day-to-day activities, work, finances, and each other. It just goes to show that even a global crisis can have a silver lining.
These articles may be of interest to you