Prepare a comforting vegan meal for just $20
Pretty Small Vegan whips up a delicious vegan menu of chickpea curry and chocolate mousse.
Of the thousand and one myths surrounding veganism, these two top the list:
"Being vegan is boring—all you eat is salad."
"Being vegan is way too expensive."
We're here to set the record straight. Boring? Expensive? The following recipes are anything but.
To help cut through the chill of winter, blogger Odile from Pretty Small VeganAttention, this link will open a new tab. has prepared a plant-based menu for six, selecting ingredients that are both seasonal and affordable. You're in for a vegan meal fit for royalty.
On the menu: coconut milk chickpea curry, served with rice and broccoli, followed by an airy chocolate mousse for dessert.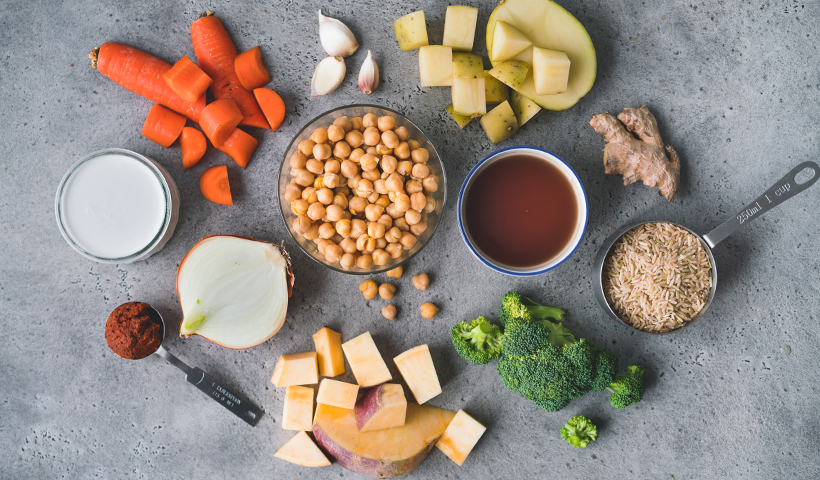 Odile's grocery list
Here's what you'll need for six servings:
For the curry
2 tbsp (30 mL) of coconut oil: $0.38
1 medium yellow onion, chopped (about 1 cup): $0.75
2–3 cloves of garlic, minced (15 mL): $0.30
1 small piece of ginger, peeled and minced (15 mL): $0.05
3 large carrots, cut into large cubes (about 2 cups): $0.55
2 large yellow potatoes (about 1 lb.), cut into large cubes (about 3 cups): $0.65
1 small rutabaga (about 1 lb.), cut into large cubes (about 3 cups): $1.29
1 can of coconut milk (400 mL): $1.00
1 carton of vegetable broth (900 mL): $2.99
1 can of chickpeas (540 mL): $1.69

Important: Reserve the liquid in the chickpea can (also known as aquafaba) for the chocolate mousse.

2–3 tbsp (30–45 mL) of red, green, or yellow curry paste (to taste): $0.56 to $0.84
1 cup of brown basmati rice: $0.43
1 head of broccoli: $3.49
Optional (as a garnish): cilantro and green onions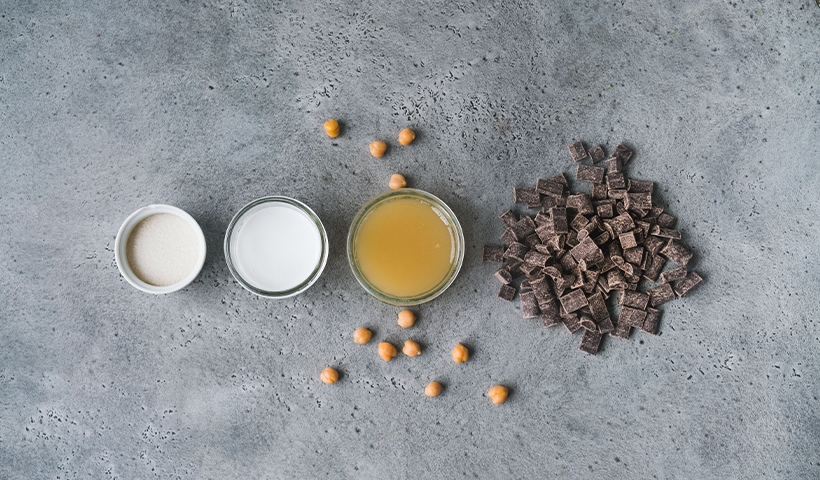 For the chocolate mousse
200 g of dark or bittersweet (dairy-free) chocolate, in chips or roughly chopped (1¼ cups): $3.10
3 tbsp of cane sugar: $0.23
Aquafaba reserved from the curry recipe
Total: $17.79
*All prices are by portion.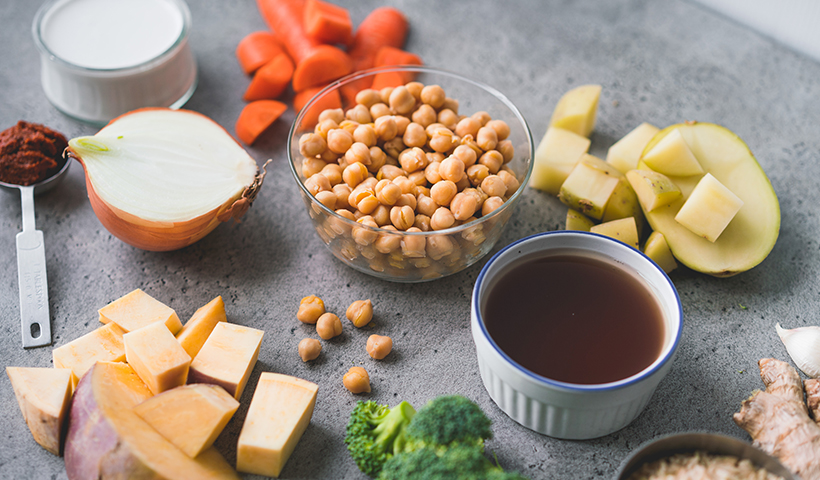 Recipes
For the curry
Start by cooking the rice: rinse the grains in a sieve and then place in a pot with 2½ cups of vegetable broth. Leave uncovered and bring to a boil before lowering the heat. Cover and cook over low heat for 45 minutes. Remove from heat and let stand for 5 minutes.
While the rice is cooking, melt the coconut oil in a pot over medium-high heat. Add the onion and brown for 5 minutes or until translucent and slightly golden.
Add the garlic and ginger and brown for 30 seconds.
Add the carrots and rutabaga along with a splash or two of broth. Lower the heat, cover, and let simmer for about 10 minutes.
Add the curry paste and 320 mL of coconut milk (reserve ⅓ cup [80 mL] for the chocolate mousse). Bring to a boil, lower the heat, cover, and let simmer over low heat for 5 minutes.
Add the potatoes and the rest of the vegetable broth. Bring to a boil, lower the heat, cover, and let simmer for about 20 minutes or until the potatoes, carrots, and rutabaga are tender.
Add the chickpeas, stir, and season with salt and pepper to taste.
Cut the broccoli into small florets and steam.
Serve the curry over a bed of rice with a side of broccoli.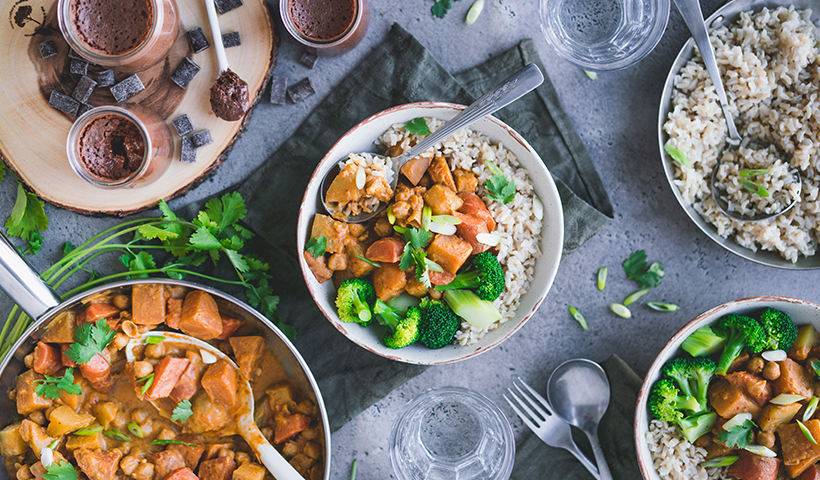 For the chocolate mousse
Use a bain-marie to melt the chocolate with the ⅓ cup (80 mL) of coconut milk reserved from the curry recipe. Keep warm and set aside.
Pour the aquafaba into a round-bottomed mixing bowl.* Whip up the liquid using an electric hand mixer (if you've got a stand mixer, even better).
Add the cane sugar one teaspoon at a time as you whip until stiff peaks form.
Add a third of your aquafaba meringue to the chocolate mixture and stir to combine. Then, incorporate another third. Pour the chocolate mixture back into the remaining third of meringue. Gently fold together using a spatula until fluffy and thoroughly combined.
Pour the mousse into six to eight small glass jars and cover with a lid or plastic wrap. Chill for several hours before serving.
*Make sure to use a spotless mixing bowl. A speck of grease or any other residue could make it difficult to whip your aquafaba to the right consistency.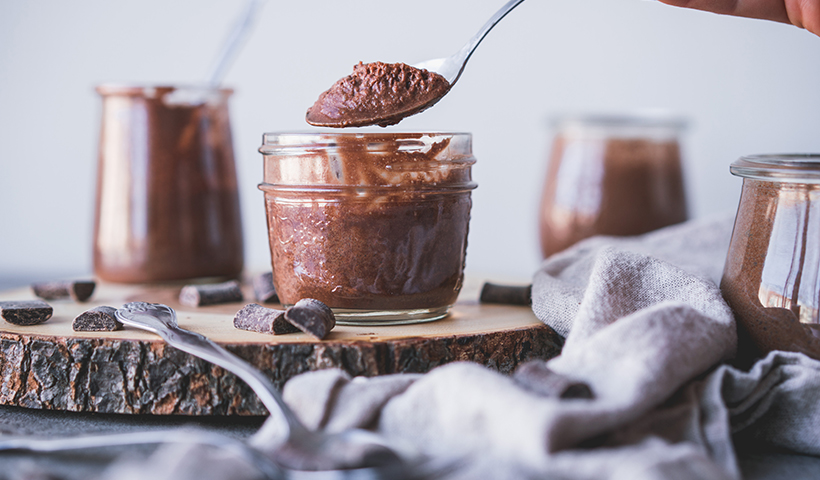 We hope Odile's recipes inspire you to try your hand at affordable vegan cuisine. Bon appétit!
These articles may be of interest to you