4 green measures that can help you save
Change your life with environmentally sound practices!
Acting in ecologically responsible ways while saving money is easier than you think. Ecology and economy not only rhyme, they go hand in hand with these 4 ways of saving money, all while being environmentally conscious.
1. Make your own ecological cleaning products
Grandma's old homemade cleaning concoctions make even more sense today. Besides containing no chemicals (or harmful substances) products made from natural ingredients are more effective when it's time to clean the house! Here are 4 tested, proven cleaners we recommend.
Floors

Mix ¼ cup of white vinegar with 4 litres of water.

Carpets

Sprinkle with baking soda and let stand an hour before vacuuming.

Windows

Mix 2 tsp. of white vinegar with 1 litre of hot water.

Dish soap

Replace your store-bought dish soap with 1 oz. of pure soap (the liquid kind, often containing essential oils), 2 tbsp. white vinegar, 2 tbsp. baking soda and 3 cups water.

All-purpose cleaner

Combine ½ cup white vinegar, ¼ cup baking soda, a few drops of lemon oil and 2 litres of water.
2. Turn your house into an energy-efficient home
Does your home have a lot of charm and a lot of history? Or maybe you're looking for a major challenge like building your own home? Either way, there are government programs that can help you turn any dwelling into an energy-efficient home.
For any renovation work done to reduce infiltration or increase insulation, or when you add mechanical systems, you can get financial assistance under the RénoClimatAttention, this link will open a new tab.Attention, this link will open a new tab.Attention, this link will open a new tab. program. You'll also come out ahead if you make minor improvements, for example, by installing smart thermostats. When you're home, your heating should be set no higher than 22°C. At night, or when you will be absent for longer periods, you can lower your thermostats by 2 to 4°C. You can also lower the temperature in rooms you don't use all that often to about 15°C. According to some studies, by lowering the temperature by just 1 degree, you can reduce your energy consumption by 7 percent! They might seem insignificant, but these habits can add up to savings of hundreds of dollars a year. Same goes for energy-efficient lightbulbs: they can lower energy costs for lighting by up to 75%!
As for the NovoClimatAttention, this link will open a new tab.Attention, this link will open a new tab.Attention, this link will open a new tab. program, it promotes building new homes that are highly energy efficient. Also, by taking part in the CMHC Green Home programAttention, this link will open a new tab.Attention, this link will open a new tab.Attention, this link will open a new tab., you can save between 15% and 25% on your mortgage loan insurance. You are eligible for the program when you buy or build an energy-efficient home or when you become the owner of an existing home that you plan on giving an energy-efficiency retrofit.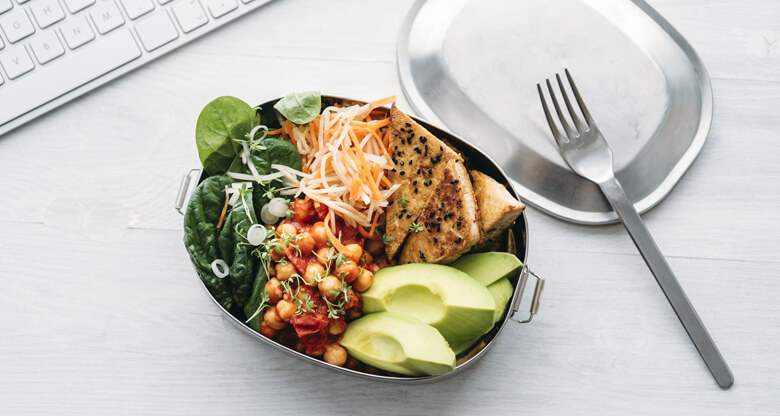 3. Get to know your vegetable proteins
Reducing how much animal protein you eat can have significant benefits not only for your health but also for the environment. It can also save you a considerable amount on groceries.
A good way to develop a more responsible eating routine is to dedicate one day a week to vegetarian meals, like people do for "Meatless Mondays". Of course, it's up to you to decide which day of the week best suits you.
Need some inspiration for cooking vegetarian meals? Lentils, black beans, tofu, chick peas, quinoa, oats and tempeh are great examples of foods that are high in protein. Don't forget, it's recommended that you consume protein at every meal, morning, noon and night.
4. Buy reusable containers and avoid disposable ones
Everywhere on earth, more and more businesses are starting to ban plastic containers like water bottles. The European Union just took a big step in that direction by banning single-use plastics as of 2021. That's something we could do here. According to Statistics Canada, Canadian households spend an average of $41 on bottled water per year, which is a lot for a country where people have access to clean water pretty much everywhere. Especially when switching to reusable bottles is such a simple, sound solution for the planet.
You can gradually introduce these 4 measures into your daily lives. And, yes, at the end of the day, they can also end up making a difference for both the planet and your wallet.
These articles may be of interest to you